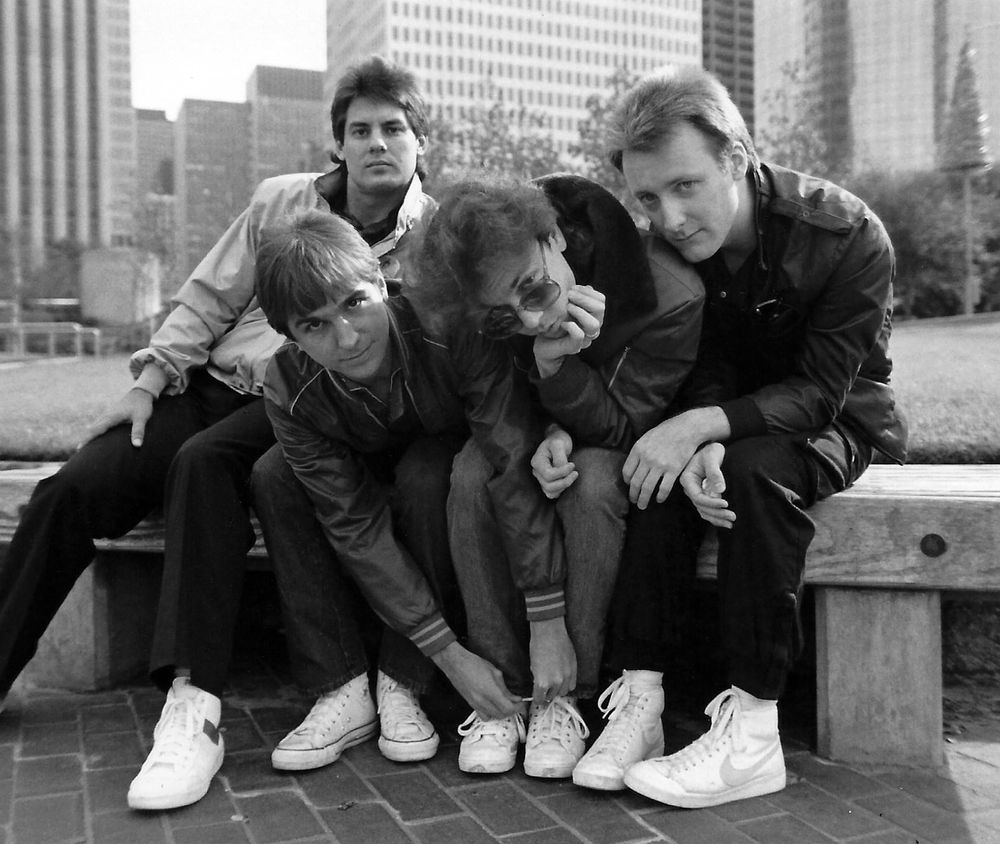 Just after the release of my first record "Fresh Out! in March of 1982, I was chatting with Danny Kristensen and Rick Richards, both of whom had played on the record. Danny had a band called The Newz that was playing in local clubs in Galveston, Texas, and Rick had a steady gig playing with Jimmy Clanton (Venus in Blue Jeans) at a Houston hotel.   
One day, Danny told me that his bass player was leaving the band and he asked me to join The Newz.  They had a house band gig booked through the summer playing four nights per week for a pretty good paycheck.  
The Newz at that time consisted of Danny, Ray Salazar (my former lead singer with Artisan) who now also played keyboards, drummer Frank Perez, and me.  I hit the ground running rehearsing with them and learning all their material.  Within a couple of weeks, I made my debut with The Newz.  In addition to their top-notch set of most of the rock hits of the day and The Beatles, of course, we worked up the four songs from my "Fresh Out!" EP.  We poured a ton of energy into every show and the audiences were great!  
After a month or so, our drummer Frank left the group.  Both Danny and I lobbied Rick Richards pretty hard to come join us.  As it happened, Rick was getting tired of his Jimmy Clanton hotel lounge gig and he decided to join us.  For the next three months, we rocked the Sea Wall and tore the roof off of The Seahorse in Galveston!  As Rick used to say "our songs, and occasionally one or two of us, used to leap off the stage!" 
In late summer, Ray wanted to leave the band to start his own group.  Rick suggested we talk to Keith Lancaster who had played with him in the Jimmy Clanton band.  Keith had also had his fill of playing Holiday Inns with an early 1960s one-hit wonder, so he jumped at the chance to join the band.  Now that we had a new band and a new sound, we decided to change the name of the band from The Newz to Walkee Talkee.   Keith had a small 8-track recording studio called "Skyrocket Studios" and the group took advantage of that to record a bunch of our own songs. On one of the songs, Rainy Day, Terry Carolan from Just Boys, stopped in to play guitar and add a few vocals.  A few of those songs have made their way onto my anthology album "Forever Fresh!" 
Danny received a phone call from a guy he knew in Austin who told him that Nick Lowe had been living in Austin for a while and was looking for some Texas bands to submit songs for a compilation album he wanted to produce.  Danny's friend told him the catch; he needs the songs by Monday and we'd just found out on a Wednesday, which was the beginning of our four-night stand in Galveston and The Sea Horse. I had a few unfinished songs that I made cassette copies of and brought them to the band that night to listen to.  Keith said we could use his 8-track studio to put the songs together and record them. So, we went into his studio for a few hours before the one-hour drive to Galveston on Friday and Saturday.  We finished the three songs on Saturday afternoon and then had to hightail it to our gig in Galveston.  On Sunday, we drove two cassette copies of the finished songs and gave them to Danny's friend to take to Lowe the next day.  We never heard anything from Lowe, nor did anyone else who'd submitted songs.  About a year later, the group I was in opened for Nick Lowe in Dallas, Texas.  I was going to ask him about the project, but I never got a chance to meet him. 
Danny was a Galveston native with a long history of playing music on the island, he naturally had great contacts with all the club owners there.  He got us another house gig at Pier 23 in Galveston contracted from early fall up through Christmas 1982.  Between The Newz and now Walkee Talkee, we played over 125 shows that year!  
Danny had an idea for a Christmas song he called, "Christmas, Merry Christmas".  We worked up the song at Keith's studio and it turned into a fun and catchy little tune!  One of Keith's partners, a guy named Steve Puntenney helped out with some of the lyrics, as did I.  We recorded the song as a four-piece band, but something was missing.  We thought it would sound great with a child's choir singing along to give it an innocence quality.  Danny knew the nice folks at Saint Francis of Assisi in Galveston so he contacted them and arranged to have their children's choir come by and sing with us on the outro choruses.  It was splendid!  We finished off the project by adding our individual Christmas wishes after the song, most of which were just silly, made up on the spot things.  We mastered the song and our messages together as a one-sided single and pressed 500 Evan-Tone Sound Sheets, or Flexi-Discs, in bright red and sent them out to our loyal fan club members.  It's very rare to find these days, but occasionally one finds its way onto eBay.   
Just after Christmas 1982, I got a phone call from my former Cirkus drummer Dick Ross, who was now playing with Joe King Carrasco & The Crowns.  Dick told me that their bass player was leaving the group and he wanted me to audition.  He also told me that the group wanted someone like me in the band to help contribute to the song writing to help their Tex-Mex rock sound appeal to a wider audience.  Carrasco had a major record label deal on MCA Records and I could only see this as an opportunity I shouldn't ignore.  In any career, individuals go from job to job as they try to move up the ladder of success.  But sometimes in the band business, the individual musicians get their feelings hurt when someone leaves the group and this happened with us, although we quickly got over it.  
Walkee Talkee was scheduled to play the first two weeks after Christmas at a Holiday Inn hotel lounge gig in Beaumont, Texas.  I called Dick just before we left for Beaumont and told him that I did indeed want to audition for his band.  We set my audition date for the Sunday after our last Saturday night show in Beaumont.   
The original members of Walkee Talkee played their last show together on February 8, 1983 at the legendary Fitzgerald's in Houston where we shared the stage with Ric Tangle and The Squares.