The Confederation / First Voyage Out / Bird's Eye 1969-1971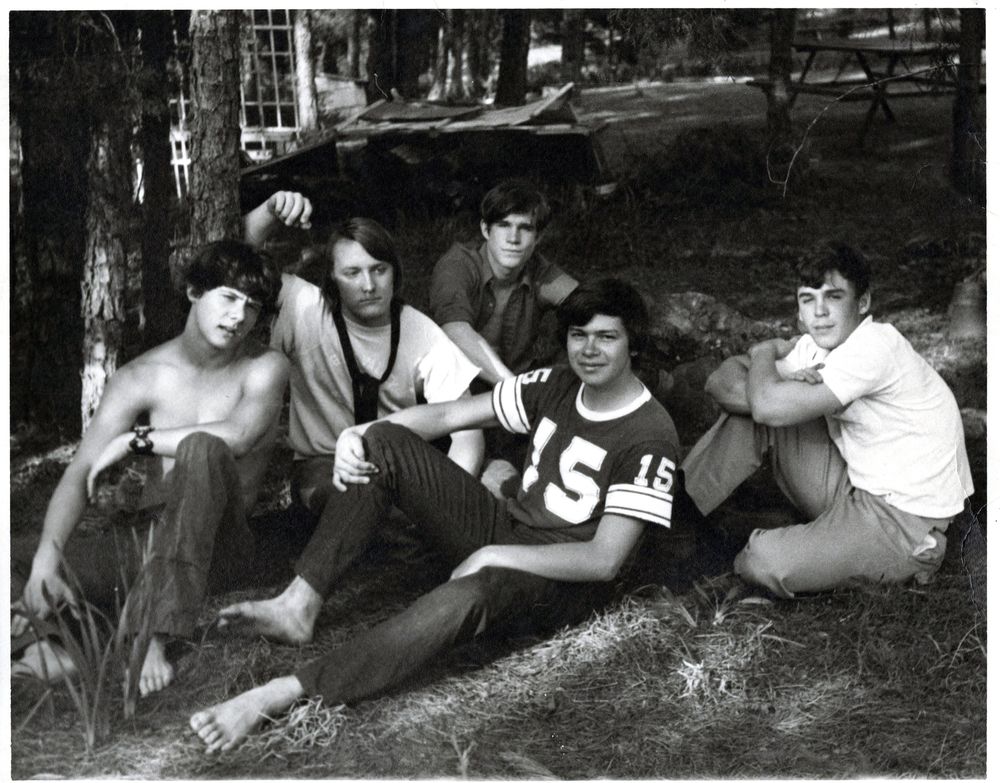 In the 9th grade, I met a school mate named Charlie Ritchie who owned a Rickenbacker 366 convertible electric guitar.  The cool thing about this guitar was that it was a 12-string just like Roger McGuinn played in The Byrds!  But this guitar also had a metal comb-like feature with little teeth that could grab the six higher octave strings and pull them down and away from the pickups, which then made it into a 6-string!  That was impressive enough, but Charlie also wrote songs; something I was trying to figure out how to do.   
At our first meeting, I told Charlie I played bass.  What I didn't tell him was that I didn't have a bass. I had only rented one the summer before and currently, I was playing a guitar with the high E and B strings removed.  Charlie asked me if I wanted to come by his house and listen to his band after school.  His mom picked us up after school and took us to their house where I saw what looked like all of the equipment you'd need to play a real gig!  
The singer was Tom Nelis and the drummer was Rick Sheppard.  For some reason, their bass player wasn't going to be there today.  But he had left his beautiful white Fender Precision bass there.  Charlie and the guys played a couple of songs they'd been working on, one of which was a Jimi Hendrix song called Hey Joe.  I had already learned that song from my copy of the Are You Experienced? album.  I asked them if it would be OK if I got out their bass player's bass and played along.  They all said. "Sure!"  
Relieved that I didn't have to pull my four-string guitar out of its little zippered carry bag, I picked up the bass, put it on, made sure it was in tune (which was a very impressive thing to do in those days!)  and we started the song.  When we got to the little instrumental bridge part where the bass plays some pretty cool lines, I stood up straight and played them perfectly.  Whoa!  Everybody suddenly stopped playing and looked around at each other and then back to me with big smiles on their faces!  I knew I had made an impression, though possibly an enemy with their bass player.  Little did I know I had just auditioned for Charlie's band!  
The next day at school, Charlie asked me if I wanted to join the band!  Unfortunately, the bass player's dad had bought the band's PA System, so that was now gone.  Also, I didn't have an amplifier or a bass.  I asked my mom if she could rent me another bass guitar and amplifier, but she said she couldn't afford it.  I'd learned lots of bass parts from records the previous summer with my rented Harmony bass and small amp.  But for now, I would have to use my cheap Decca electric guitar with 2 strings missing as my "bass" guitar, along with a shoebox sized Decca amp with an 8" speaker!  
Tom had a friend in Boston who built me a Heath Kit bass amplifier and shipped it down to Charlotte.  Heath Kit is exactly what it sounds like; a bunch of parts in a box that you assemble yourself.  Tom had also recently bought a cheap sunburst España bass guitar after saving enough money from washing dishes at a Polynesian restaurant where we both worked and he let me use it in the band.  I eventually bought it from him; my first bass guitar!  
We practiced for six months before we got our first gig.  Rick's dad held a campaign party at their house for Eddie Knox, who was then running for a state senate position.  His dad went to a lumber yard and brought home four sheets of plywood and put those down on the grass in their backyard; a stage!  I think we knew about six copy songs; a few Beatles songs, plus Hey Joe by Jimi Hendrix, I Can See for Miles by The Who, Sunshine of Your Love by Cream, Jumpin' Jack Flash by The Rolling Stones and probably some others I can't remember now.  We also played about six of Charlie's songs, along with the very first song I ever wrote called Eternal.  
Shortly after our triumphant gig, I went to South Park Mall with my mom.  I headed right over to the Sear's music section to play their Silvertone brand guitars and basses.  There was a guy already playing the only bass on the rack so I just stood there watching him.  He was playing Sunshine of Your Love.  When he missed a note, I told him what the correct note should be.  He stopped playing, put the bass back on the rack, went over to a small combo organ, and started playing and singing Beatles songs.  He said something smart like, "See if you can keep up."  So, I picked up the bass and kept up!  We were both impressed with ourselves and each other's playing so I asked him if he wanted to stop by my band's rehearsal after school sometime.  His name was George Palmer.  When he showed up at Charlie's to rehearse, he didn't say a word to anyone but rather headed straight over to the family piano in the den where were rehearsing.  For what seemed like an hour, George played and sang for us and we were all very impressed.  He was asked to join the band on the spot.  
We played a couple more gigs and even recorded some of our original songs at our friend Bart Austin's house on a reel-to-reel tape recorder.  Those studio tapes, along with some live recordings, were recently revived and they sound pretty good!  
Our final gig was at the July 1971 Festival in The Park in Charlotte.  After that gig, Charlie told us he'd been accepted to The Governor's School in Winston-Salem for art for his senior year.  That was the end of the band as we'd known it.  
After, that, George and I played a couple of Lady's Auxiliary tea party-type gigs.  One memorable gig was at the Rolling Hills Country Club in Monroe, NC.  We played about four songs over and over as the audience drank and danced.  George liked to flirt with the older women and they ate it up! George encouraged the ladies to tip us and I remember making about $50 that night!  George and I also used to play for his church's Sunday Morning Youth Service.  We'd take popular songs like Windy by The Association and change the lyrics around to include religious references.  (Everyone know it's Jesus)  Some of our lyrics were really more sacrilegious than religious, but we always had fun.  
George introduced Rick Shepard and I to a friend of his who played guitar named, Dwight Preslar.  We quickly worked him into the band.  After a few more teen club gigs and a fraternity party at Davidson College's Owensby Hall, our last gig together was at the Broughton Psychiatric Hospital in Morganton, North Carolina.  The show was for a bunch of children and young adults who lived there.   
When it was show time, we all went out onto a really nice stage in the hospital's auditorium/gymnasium to start our show.  The stage was equipped with bright foot lights which totally blocked our vision for the first 20 feet off the front of the stage.  None of us knew yet how to look over those lights and we were blinded by them for the first few songs of our six-song repertoire.  At the beginning of the second song, all the kids started throwing candy bars, packets of chewing gum, and hard candy onto the stage.  Those things hurt!  Plus, the shock of feeling a Snickers bar smashing into the side of your head in the middle of Johnny B. Goode was disorienting.  At first, we thought they hated us and were trying to get us off the stage!  But once we realized that this was their way of showing their appreciation, we calmed down a bit.  Being hit with all that candy still hurt, but that also meant we'd have some cool snacks to eat on the way home after the gig!  
We spent a few Saturdays that summer rehearsing in the bottom of Dwight's drained pool at his house playing songs by The Blues Breakers, The Who, and Alvin Lee.  We didn't really have much of a plan about what we wanted to do as a band and eventually we went our separate ways. 
What's in a name?  
50 years after our band was no more, I spoke with Charlie Ritchie about the original name of our band The Confederation.  Charlie grew up in Alabama where, as a child, images and stories of the Southern United States during the American Civil War were all around him.  He told me that he used to play with his little toy army men but always thought of the rifles they held as guitars.  Years later, he drew on that memory and came up with The Confederation as a name for his band.  Although very innocently conceived at the time, the natural process of growing and learning more about the real history of the Southern states during the Civil War cast a shroud of shame on the name.  Tom Nelis remembers The Confederation name as "doing a riff on Paul Revere & The Raiders".  
During our time together, the band name was forever migrating.  After we ditched The Confederation, we became Bird's Eye, and then First Voyage Out. 
Where are they now?  
The five of us had a 50-Year Reunion get-together via Zoom during the summer of 2020!  It was great to reconnect with everyone and catch up with what all of us have been doing all these years. 
Charlie is an outstanding internationally renowned artist.  He recently retired after a great career at The National Art Gallery in Washington, DC. 
Tom is an accomplished actor and has appeared in numerous plays on Broadway, television and other live theater venues all over the world.   
Rick is still in love with sports cars and boats! 
George is retired from his job as an English teacher at an at-risk school and today enjoys working in his fabulous in-home studio on a beautiful island off the coast of South Carolina. 
Artwork illustration: © 1970 Charles Ritchie, "Boogie Bass", Christmas gift to Bruce in 1970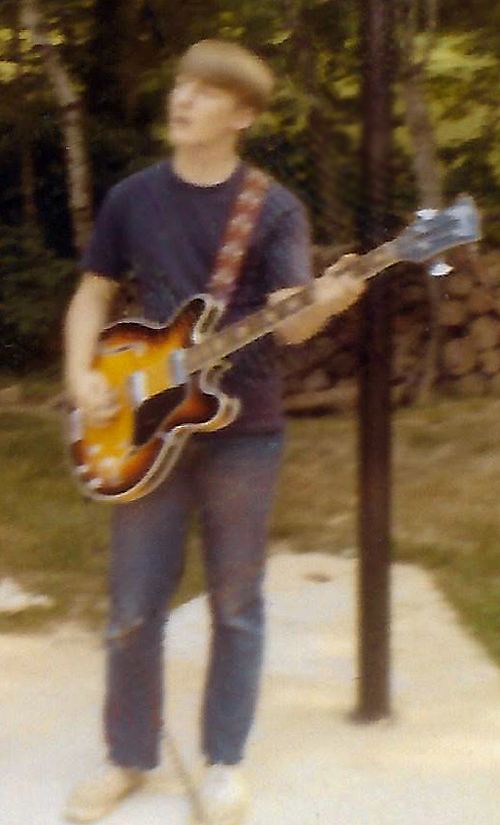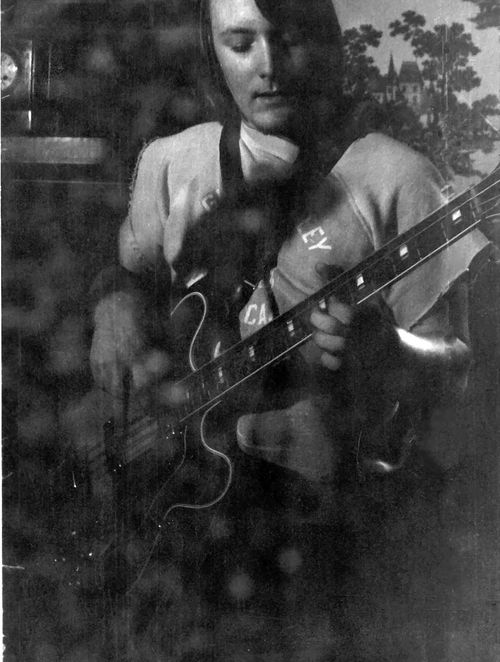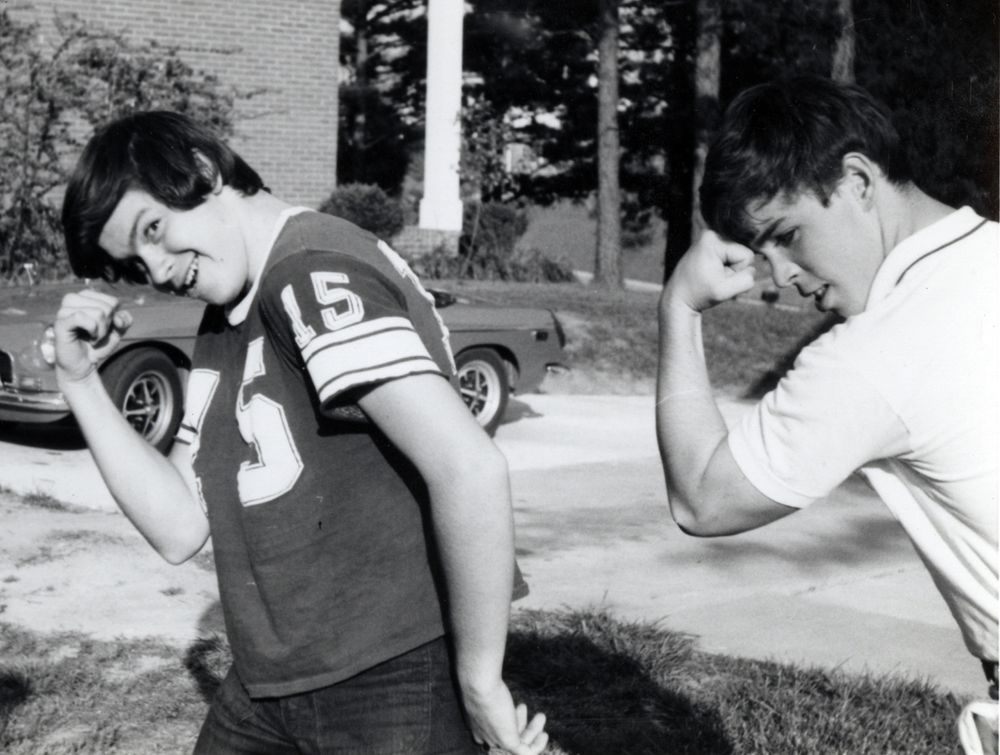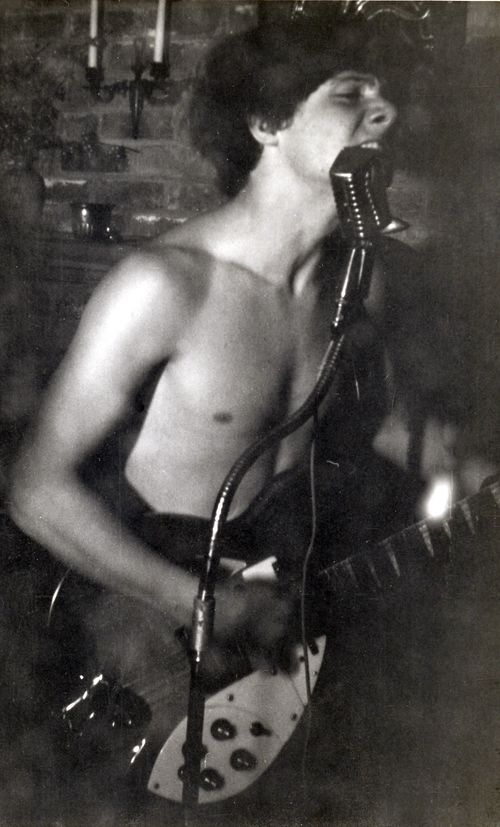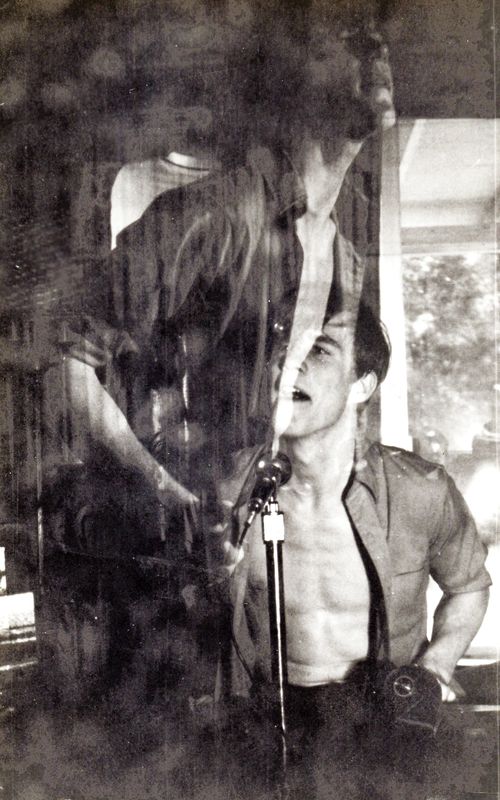 Artwork illustration: © 1970 Charles Ritchie