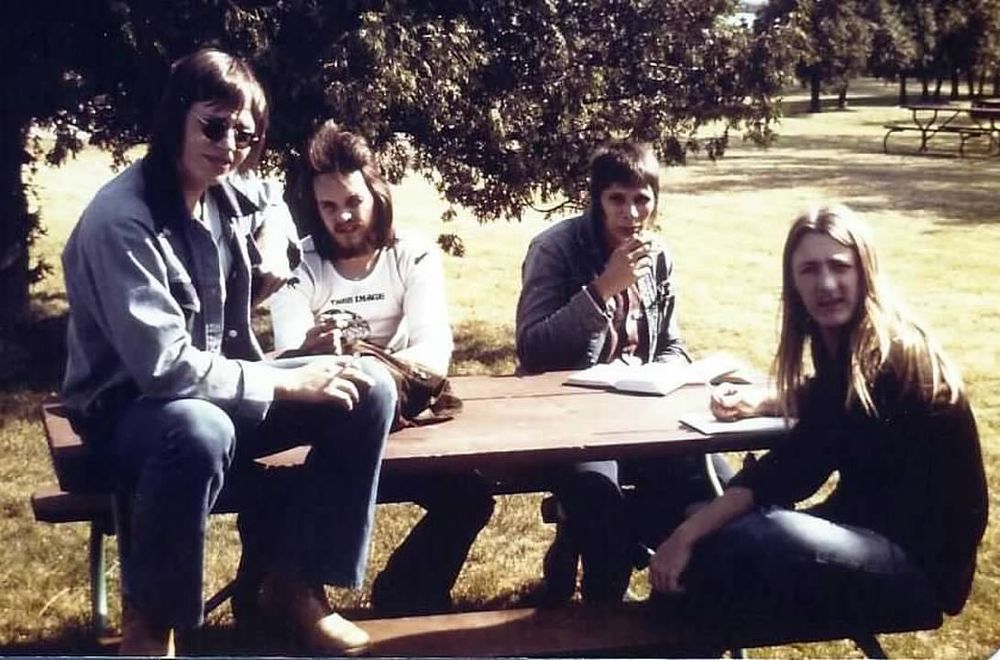 In early 1975, Rockin' Jon was starting to have some growing pains.  Living in a band house, practicing every day, and gigging every Friday and Saturday night were all taking their toll.  We all had girlfriends and one of us was even married.  Suddenly, at 19-20 years old, we were getting burned out.   
Although every single member of our band was multi-instrumental, and we always changed instruments to our songs during our shows, our singer Rick wanted to start playing bass more, possibly in his own group.  Steve and Lynn wanted to try a year studying music at an out-of-town state college.  Although we were a very popular band, our audiences had grown used to our look and our sound, whereas I was still pushing the band to go further with our original music.   
Rick and I were sharing an apartment and one night we had a heart-to-heart chat about our future interests.  I encouraged Rick to pursue playing bass full-time.  I'd given him my old Espanã bass a few years earlier and he'd gotten very good very quickly.  He now also he had a Rickenbacker bass like mine and he wanted to start jamming with area musicians to see if he could find some interest there.  During our discussion, Rick encouraged me to look for broader musical pastures as well.   
I happened upon a musician's want ad in the back of Rolling Stone from a progressive rock band out of Wisconsin looking for a bass player to play original music.  They asked for a photo, a resumé and a demo tape. I had the first two things but not a demo tape.  Steve let me borrow his two-track tape recorder and I got to work recording some original ideas.  Nothing was great, or even finished, but there were some nice ideas there that showcased my playing, writing, and singing.   
After a week of recording, I mailed everything off to a guy named Terry Kohls, the leader of this Wisconsin band.  Another week went by and one evening I received a phone call asking if I could come up to Sheboygan, Wisconsin for an in-person audition, to which I said, "Of course!".  Hey, I was 20 years-old and still had the road in my blood.  So, I packed a bag and my bass and flew into Milwaukee where I was greeted at the airport by Terry and their drummer Doug Grube.   
We drove straight to their rehearsal studio where we were joined by keyboardist, Mark Morgans.  We sat and chatted for an hour or so about music and the band's goals.  Terry had somehow made contact with Moogy Klingman, Todd Rundgren's keyboardist at that time.  Apparently, Moogy liked some of Terry's music and was considering lobbying Todd's Bearsville Records label out of Woodstock, New York to sign Terry's band.  Terry was looking for someone who was well-versed in the progressive rock scene at the time.  I told him I could play the bass parts of 90% of the current songs by Yes, Genesis, and Emerson, Lake & Palmer and he seemed impressed by that.  They were also big fans of Supertramp, 10cc, and The Moody Blues so there seemed to be some good synergy there.   
When it came time to play, I plugged my Rickenbacker into a small bass amp and we played for the next four hours.  With all the nods and smiles on everyone's faces, it was obvious we were having fun playing together.  We decided to take a food break so we could chat some more.  We went to a small Sheboygan bar where I was treated to the best bratwurst in a bun I'd ever had!  Beer on tap was 10 cents a glass there, so the affordable sustenance question was quickly checked off my list!   
After we ate, Terry asked if I wanted to join the band, to which I could only say "Yes!"  The next day, I flew back to Charlotte to pack the rest of my things for my move to Wisconsin.  It was early June so the weather in Wisconsin was refreshingly warm but not hot like it was starting to get in Charlotte.  Plus, Sheboygan was a lovely, idyllic town just north of Milwaukee, right on Lake Michigan.   
This time, I would fly out of Sheboygan to Chicago to Atlanta and then on to Charlotte.  That's how many flights were routed back then; multiple stops with everything going through Atlanta.    
The airport in Sheboygan is about the same size as a local Dairy Queen.  As the guys dropped me off and I walked into the airport, there was only one person in the place.  The lone occupant besides me was a guy behind a concession stand who asked me if I wanted anything.  I ordered a Coke and went over to one of the six chairs against the wall to sit down.    
The guy behind the counter who had made my drink, went into a back room, and then a few minutes later walked out.  He was no longer wearing his serving apron, but rather a jacket and he was caring a clipboard.  He looked at me and said, "You ready?"  I said, "Ready for what?"  He then smiled and said, "I'm your pilot!"  Hmmmm …   
I slowly got up, grabbed my suitcase and guitar case and walked of out the other side of the building with him.  About forty yards away stood a small, single prop airplane!  As we approached the plane, I could hear my new band mates laughing from behind the fence that surrounded the "airport".  Feeling like I was suddenly in The Buddy Holly Story, my suitcase and guitar were placed behind a small mesh gate in the back seat of the plane and the pilot and I got into the front seats.  Looking back at the still cackling musicians, I flashed them a peace sign and off we taxied away to the runway.   
With what sounded like a small home lawnmower revving up its engine, off we buzzed down the runaway and lifted off towards Chicago.  As I turned around to look behind me, I could still see the three musicians waving and laughing.   
My day of flying was pleasant and uneventful.  But since we'd left Sheboygan so late and with the connection in Chicago to Atlanta, by the time I got to Atlanta, it was almost midnight. The way the Atlanta airport was set up then was, if you had to change from Delta to Eastern, you had to walk to the other terminal on the other side of the airport, which was a bit of a long sprint if your connecting flight was close to your previous arrival time.   
As I was finally making my way to the Eastern Airlines terminal, I could just make out a couple walking very slowly towards me.  Both were rather short, but with long hair and one of them looked decidedly tipsy.  As we got closer to each other, I saw the woman smiling at me.  It was Gregg Allman with his new wife Cher!  We stopped and chatted for a bit.  They'd just gotten home and I was off to Charlotte so we said our goodbyes and parted company.  What a cool happenstance!  Little did I know I see them two more times in the next year.   
I finally got back to Charlotte and made my plans to return to the land of bratwurst and cheap beer.  I called Patti, my girlfriend for the past 2+ years and told her about my plans.  She'd recently received an offer to move to Monmouth Park, New Jersey to work with her friend to exercise racehorses at the track there.  A few days later, I had my bass amp packed up and shipped to Sheboygan, Wisconsin.  Patti left for New Jersey about the time I headed back to the airport to move to Wisconsin. We would see what it was like to be separated.  
The next two weeks in my new town were filled with long rehearsal days and chats at City Bakery with the local booking agent.  We grabbed a couple of gigs at a local rock club called, "Rendezvous" and we planned a small tour to Green Bay and into Upper Michigan near the Canadian border.  Around the time we were planning our tour, Saturday Night Fever was taking its grip on music in the US. Wisconsin wasn't excused from the growing influence of a new form of music referred to as "Disco" in the clubs.  Being a loud, progressive rock band, we knew our survival was on the line.  Some of the audiences on that tour wanted something more than a Genesis influenced sound coming onto their dance floors.  We got through our gigs, but it was challenging. 
Terry placed calls to Moogy Klingman almost daily. Cassettes of our newest material recorded live in our rehearsal room were also forwarded to Woodstock, NY.  Moogy's reaction to the tunes now seemed tepid at best.  The truth was the recordings sounded rough and the material was probably way over the top for a new, unknown band trying to interest a record label.  But we stubbornly persisted, constantly rehearsing new material and picking up gigs wherever we could.    
Our best gig ever was at the Sheboygan Bratwurst Festival in front of 5,000 people.  But there, we noticed that Terry's relationship with his live-in girlfriend had started rapidly deteriorating.  This directly affected his ability to be a reliable band member and group leader.  Rehearsal was now just three of the four of us showing up to jam and the gigs started drying up.  The popularity of The Bee Gees and Donna Summer's relentless disco music releases didn't help matters much either!  Mark worked in his brother's record store for extra cash, and Doug and I started working part-time with his dad's painting company, painting houses.   
Patti and I had been phoning regularly throughout the summer when we could both find the time to call.  Her now two-month old job exercising racehorses at the track was starting to lose its glamour, so she made plans to move to Sheboygan.  She arrived a week later and moved in with Doug and I in a rundown apartment over-looking an alley.  The three of us practically starved together as Doug and I played for bratwurst at Hinze's bar in Sheboygan to support the three of us and Doug raided his mom's kitchen after we got off work for the day.  We also enjoyed Doug's mom's wonderful spaghetti dinners whenever we could invite ourselves over!   
As the late August summer days starting to turn cooler at night, Doug and I started making future plans.  I'd contacted Steve and Lynn back in North Carolina and after a summer of college at UNC-Greensboro, they were ready to start rockin' again!  I pitched them the idea of a two-drummer Rockin' Jon reunion tour and they both jumped on board.  Brad had been talking to our former lead singer Rick whose blues band was suffering from a gig drought brought on by the new Disco sensation and now they were both expressing an interest in getting the band back together as well.   
So, with plans made, Doug, Patti and I stuffed our clothes and instruments into Patti's green Ford Torino and headed back to Charlotte to form Rockin' Jon 2.0!