London: February - May 1978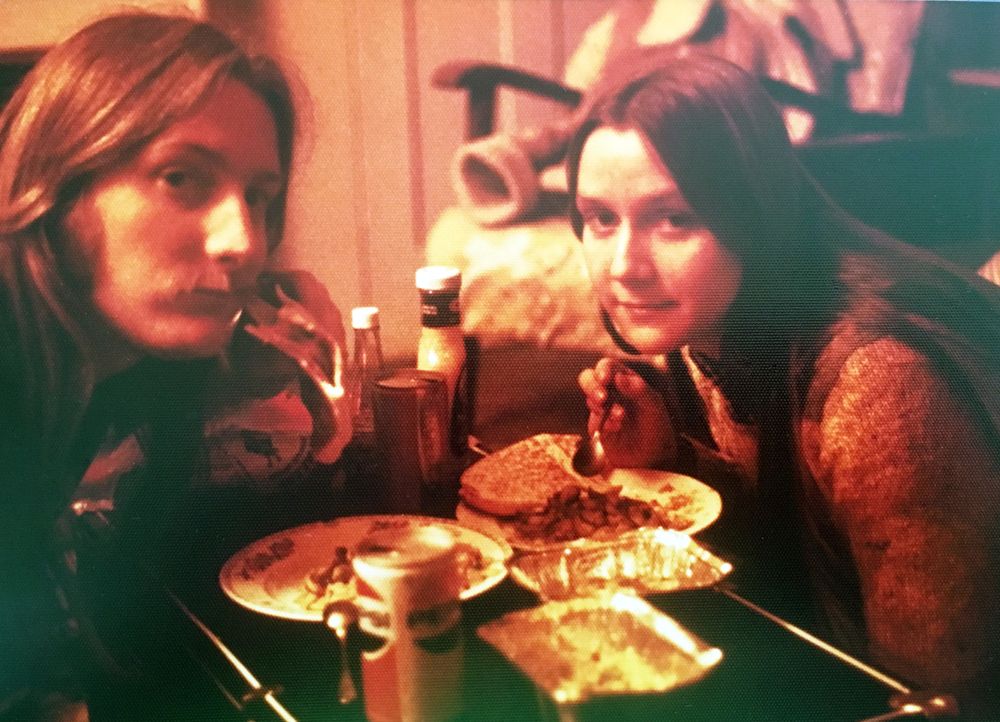 After my freak-out exit from Cirkus and with no new musical prospects anywhere on the horizon, I was in dire need of a new challenge on a new landscape.  So, Patti and I decided to try our luck in London. I now had a list of musical contacts there and a new demo tape with some cool songs that had I made with Dennis Watson, Ray Salazar and Dave Wentz. Now we just need to put together our travel plans.  
I had been reading about a new direct flight from New York to London by an airline called Laker Airways that was started by Sir Freddie Laker. The way the flights worked was that anyone could show up to the Laker Airways office in Queens, New York, buy a one-way ticket to London on the day they wanted to travel for $99, take Laker's 4:00pm bus out to Kennedy airport and fly to London on their 6:00pm L-1011 "Skytrain" jet.  The problem for us was we would be flying into New York's Kennedy Airport from Charlotte arriving around 2:00pm.  Then we'd have to get a cab to take us to Laker's office in Queen's, get our luggage processed there and buy our tickets and then board their bus at 4:00pm to get back out to JFK before the 6:00pm plane left.  
As if this wasn't a big enough challenge, in early February, NYC was having the worst snow storms in 50 years!  We went through two days of flight cancellations just trying to get from Charlotte to NY because of the snow.  When we finally learned we'd be going the next day, Patti's dad, who'd always been a huge supporter of our dream, came up to me with tears in his eyes, grabbed both of my arms, looked me in the eyes and said "Go for it!"  He then palmed me $300 in cash.  What a guy Lloyd Walker was!  
We arrived at the Charlotte airport for our flight to New York with, two foot locker trunks, two suitcases, two shoulder bags, my Rickenbacker bass in an Anvil flight case and my Moog Taurus Bass Pedals in their travel case. It was a lot of luggage!  We didn't know how long we would be there, we estimated six months which meant we had to bring winter and spring clothes.  
I remember getting into Kennedy Airport, collecting all of our luggage and then spending thirty minutes to find a cab who'd take us and our mini-mountain of luggage to Queens.  We finally found one but the flat rate would be a premium $50, which was a lot in 1978!  
The streets had been snowplowed and there was literally 10 to 12-foot snow drifts on either side of only one lane open in each direction on the Long Island Expressway heading into Manhattan.  The cab was driving along bumper to bumper at about 80 mph and bouncing us up and down inside a lane's width of those snow banks!  It felt like we were riding in an Olympic toboggan sled from hell!  
We finally got to The Laker Airways processing center and the snow was piled up so high that we couldn't get to the sidewalk to get to the front door.  With the cab driver on the ground and Patti halfway up the snow bank, we pushed and threw our luggage (including my Rickenbacker bass!) up and over the snowbanks so it could slide down the other side.  When the cab driver's trunk was empty, we were on our own.  We paid him, adding a $20 tip, and then climbed back over that snowbank ourselves so we could drag our luggage into the Laker processing center. We finally got everything inside and got our luggage processed with ten minutes to spare before the Laker bus left to drive us back to Kennedy Airport.   
Sitting on the Laker Airways Skytrain jet at JFK getting ready to take off, I turned to Patti, grabbed her hand and said, "Here we go!"     
My former guitarist Richard Morant and his wife Janet happened to be visiting family in London when we arrived.  We called them and asked the best way to get into town.  The Tube is what we were told.  We somehow found the right subway, dragged our stuff on amidst the quietly startled stares of the British proper.  We got off the train in Victoria Station and took a cab to a hotel in Belgrave.  This was near the Chelsea district where Janet's mum lived and where she and Richard were staying.  
We got to our hotel and an hour later we were picked up by Janet's brother John and his mate Lionel in John's Mini Cooper.  We were whisked away to a nearby pub where Richard and Janet were waiting to meet us.  John took us freewheeling through a few of the roundabouts in Westminster before touching down in front of the pub.  I was having a few orientation problems sitting in the front seat on the left-hand side of the car while we drove in the left-hand lane.  Couple this with merging in and out of two or three connecting roundabouts with lots of cars and you've got two freaked jet-lagged out American tourists!  
Our problems were soon behind us after a pint or two of British ale.  After the third pint, my problem was in front of me; I had to pee!  Walking to the loo, I remember the juke box playing Beatles music and there was a roaring fire in the fireplace and people with their dogs in the pub.  It was all very cozy and charming!  John offered to put us up at their flat in Lewisham until we could find a place of our own so we were all set.  
Feeling the effect of our full day of travel and the three pints of beer, John and Lionel dropped us off at our hotel for that night.  We walked the four flights of stairs (no lift!) and fell into our funny little 10' X 8' room to sleep.   
The next morning, we had a wonderful large full English breakfast; thick pieces of toast, orange marmalade, rashers of bacon, scrambled eggs and endless hot breakfast tea.  We checked out of the hotel around noon and we moved everything to John and Lionel's flat.  
Just the prospect of going to London and now living there imparted a unique sense of artistic and personal freedom that neither of us had ever experienced before.  It was almost like going to another planet!  Although we'd brought a lot of baggage with us, we'd also left a lot behind, if you know what I mean.  We definitely had to adjust to other cultures, traditions, and rituals that we were not familiar with, though it all seemed very interesting and mysterious at the same time.  
There was something romantic about living in a row house in the quaint London borough of Lewisham.  Looking back now, it seems like I'm looking at one of those slightly washed out, early French impressionistic paintings.  Taking the train into London in the mornings to check out the local music scene was also very exciting.  Who knew if today would be the day?   
However, taking my bass on the train was a challenge.  With the oversized Anvil shipping case, the total weight was about 75 pounds.  I had to attach two of my belts together and then string them through the handle of my Rickenbacker bass' anvil case so I could carry that heavy sucker on my shoulder like a massive, poorly designed guitar!  The dangerous part was when I got off the train.  If I got moving forward in a crowd while carrying the case and the people moving in front of me to my left and the people behind me were moving to my right, the combination would start me spinning in a circle until I could find an opening and dart out of the vortex!  I'm sure a lot of people wondered just what the heck was in that big green case anyway!  These days, I'm sure I would have all kinds of security people very interested in that sort of cargo.  
It was cold in London in February and I was in constant pursuit of a "cuppa" tea while I was scouting through my "London: A to Z" book to find my next audition hall.   
My first audition turned out to be with a group made up of all-American kids, whose parents worked in London!  Very strange.  We had all flown 4,000 miles to England to play music with other Americans!  They were called The Orphans.  Their stage look was bruise make-up and uniforms worn by school kids.  This was 1978 and post-punk identities meant pretty much that anything was acceptable.  The main advantage they had over some of the other musicians I played with there was that their parents were footing the bills for their musical adventures.  However, they weren't very good musicians and we only got together once.  
One of the ads I responded to in the weekly Melody Maker was from a guy named Kenny Cox.  Kenny was one of the original members of London's famed The Pink Fairies.  We met at a small rehearsal room in the Shepherd's Bush district of London, which was The Who's old stomping grounds.  When I arrived, Kenny had two complete Marshall 100-watt stacks set up for us to play through but there was no drummer.  When I asked him about it, he said he'd just sent his girlfriend Rose across the street to the pub to fetch "Mitch".   
I made a little joke saying, "Too bad it's not Mitch Mitchell from The Jimi Hendrix Experience!"  Kenny said, "Yeah, 'at's him!"  Holy crap!  I was getting ready to play with Jimi Hendrix' former drummer!  Sadly, Rose came back to the rehearsal room a few minutes later saying, "He's pissed!  Can't even sit onna stool prop'ly!"  That was another near miss!  So, we spent an hour or so playing really loud chord patterns, which weren't very interesting.  Afterwards, we went across the street to have a pint. At least I'd get to meet a drunk Mitch Mitchell, I thought!  But when we got there, we learned that Mitch had been taken home by a friend.  What a weird evening that was!  
I rang up one of the contacts my Scottish friend had given me who was a guy name Nigel Grainge.  Nigel owned a record label called Ensign Records in London, and was managing a new band called The Boomtown Rats who'd just released their first album that previous fall.  I met Nigel at a pub for lunch one day and we talked for about three hours. We discussed my options and he gave me some advice about how the London music scene worked at that time. He told me to imagine a band that's from a certain district around London and to think of them as a football (soccer) team.  They've got their fans and if their fans really support them, they will get the interest of a London record label, just like The Boomtown Rats did with him.  If the band gets signed, the label makes some recordings and those recordings are released (usually a single record at first) and see if it gets any chart action.   
That's where the loyal fans come into the picture.  If a band can sell a few hundred copies of their record a week in London for a few weeks in a row, they immediately get big press in Melody Maker. Then their small, independent label starts shopping them to bigger labels.  Having an international record label add a local London band to their distribution roster is very lucrative for the small London record label and everyone makes money.  It seemed that London was a much more efficient way to get a record deal than trying to do so in the US!  Nigel said he'd be willing to listen to any band I put together in London and I left that meeting feeling a bit more optimistic than before.  Now, I just had to find the musicians for that band!  
Another two months went by with me trying to connect the dots without much progress.  It seemed like anyone who wasn't already in a really good band weren't very good musicians and the really good bands were sticking together with their fans to hold out for their big shot.  
Although London was a great adventure, none of my contacts or other musical efforts were showing the kind of potential that would help get the attention of a good manager or a good independent record label.  After four months of hard work and effort, our money was running out and it was time to return to Houston to reconsider my future.