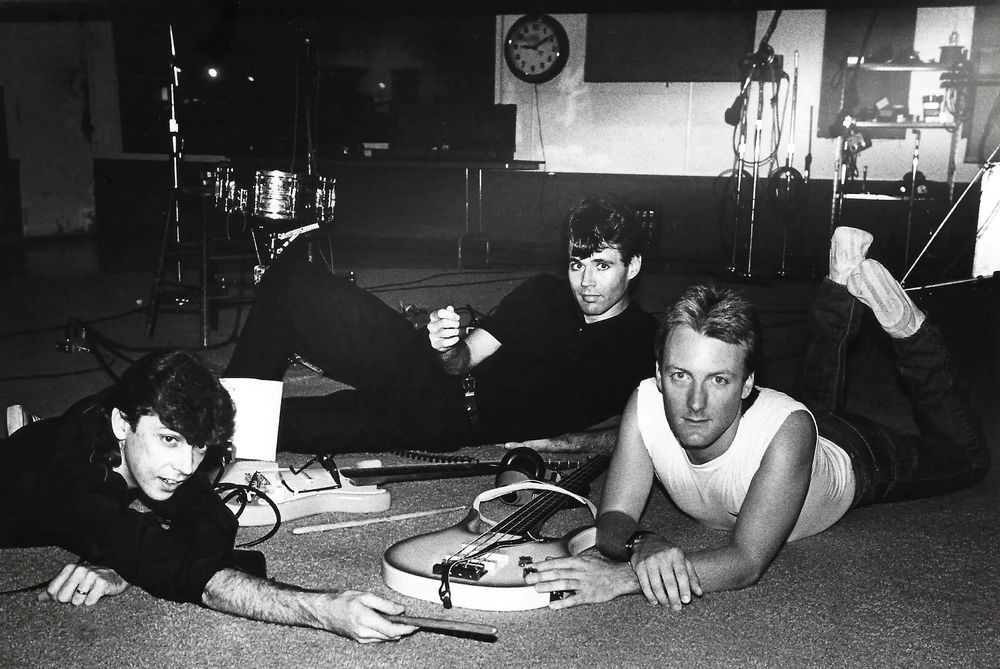 By the summer of 1983, I had enjoyed about ten of my fifteen minutes of national fame with Joe "King" & company.  I left the group in early June.  Now I was trying to figure out my next move and writing my own songs again, a lot of songs!  Some of them were turning out pretty good and I was excited to see if I could figure out how to record a few of them.  
Not being content to simply "demo" these songs on my home studio's 4-track machine, I wanted to record masters. I got back in touch with Keith Lancaster at his Skyrocket Studios. 
I went by Skyrocket one day to see what kind of deal I could get on recording three songs and to see if Keith was still pissed at me for leaving Walkee Talkee to go play with Joe "King".  Keith was very nice and looking just as George Harrison as ever!  He seemed very happy with his new studio and he played me a few things he'd been working on and I really liked the sounds he was getting there at Skyrocket.  
I played him my home demos of the tunes I was thinking about recording and he liked what he heard.  He even offered to play on the tracks, which solved a few problems for me.  Number one; it seemed as if he wasn't still angry, two; I wouldn't have to worry about learning and recording all the keyboard parts myself and three; it seemed that I might get a great deal on my recording price.  
The first track I recorded at Skyrocket was Secret Place with just me and Keith.  Keith helped me program his Linn Drum machine and I laid down the bass part with that.  Then I laid down a guitar track and double tracked it.  Then Keith played down a really cool marimba-type sounding keyboard part with a bell sound part on the choruses.  I cut the vocals and voilà, Secret Place was finished.   
Next, I recorded Above Suspicion with Wayne Holt and Terry Carolan, who both played great guitar tracks.  After we had mixed the song, Keith said he was having trouble justifying all the free recording time to his business partner.  I'd asked Rick Poss who was currently playing with his band Ric Tangle & The Squares if he would be interested in laying down some guitar tracks on a couple of songs and he agreed.  I told him about the situation at Skyrocket and he suggested that we move the project over to ACA Studios.  
Rick said that Andy Bradley, the engineer there, had helped Rick's band Ric Tangle & The Squares cut their single there and he was cool about those after midnight "ghost" sessions that never happened, at least on the studio's books anyway.  Andy was also fun to hang out with.  He was from Australia and worked with groups there like Radio Birdman and Air Supply.  Andy's real name was Mortimer Andrew Bradley.  His friends called him Andy but we called him Mort and he liked it!  
I phoned Rick Richards, who was still playing with Danny Kristensen and Randy Miller in the new version of Walkee Talkee, to see if he wanted to come play drums on some new songs we were going to record at ACA Studios and he said, "Of course!"  
The Houston music newspapers got wind of one of our late-night sessions and they started printing rumor mill stories that made the other band members these guys were playing with at the time a little nervous.  None of what we were doing was designed to be a band thing at that time, as it was just a recording project.  In fact, we called it, "The Project".  I wasn't concerned about the potential head trips that come with band rumors.  I just wanted to record these songs and pitch them back to the contacts I had made at record companies while I was with Joe "King" Carrasco.  
As soon as we finished our first session at ACA, a Houston music paper called Public News started asking us questions about what we were up to, seeing as Poss and Richards were already playing with other working bands.  Houston music photographer and freelancer for Public News Tracy Hartman came to our next session at ACA and took a photo of the three of us lying on the floor of the ACA Studio's huge main recording room and it appeared in Public News the next week, along with a somewhat evasive, non-committal story about three young musicians frolicking in the studio in the wee hours of the morning. 
By that time, "The Project" had a new name; Fear of Falling.  Again, Rick Poss was still very much involved with The Squares and Rick Richards was still playing with Walkee Talkee 2.0, but this sort of publicity for everyone involved would have been impossible to plan out ahead of time.  I felt bad about the tensions Fear of Falling caused with a few of the musicians currently playing with Poss and Richards, but I had no control over that.  In some ways, it turned out to be good publicity for all the bands involved.  
Next, "Music News" wanted to do a story and get their own photos of us in the studio.  Rick Poss had the idea of banging the backs of two folded up wooden chairs together to play along with the snare drum beat on the choruses of When I Talk To You.  So, the three of us huddled in one corner of ACA while Andy cranked a Neuman microphone about 50 feet into the air.  All of this was going on while "Music News" writer Sandy Adzgery took our photo and tried to interview us for Music News – literally while we were recording!  Needless to say, it was an interesting session!  
Andy Bradley told me that former Motown record producer Art Gottschalk was interested in producing a few of our songs at ACA. It turned out that Art was very methodical and liked to work slow, while the rest of us liked to work fast and use the energy of the moment to help produce the sound, warts and all.  
At one session, Art was there to produce Don't Call Me Again, a song I had written on the road while I was with Joe King about people who call wrong numbers, not once or twice but three times, hoping by some miracle that by the third attempt, the party they're trying to reach will have moved to where the phone is now ringing and pick up the receiver.   
As Art tried to take us through his ideas for the basic tracks, we discovered that the old Ampex 8-track machine there at ACA had a big ol' power generator knob on the front of it.  When you turned this knob to the left, it cranked down the voltage going to the recording machine which slowed down the recording or playback speed.  When you turned the knob to the right, everything sped up.  Cool!  We HAVE to figure out how to use it in a song!   
Poss and I used to speculate about whether The Beatles ever slowed down their rhythm tracks when they added vocals, which would give their voices a slight lift in pitch when brought back to proper speed.  Well, we recorded the basic track of Don't Call Me Again and started fiddling with the generator knob.  Then Randy Holtsapple from Ric's band showed up with his keyboard and we decided to record a keyboard track on the song.  The only problem was, we could not get the generator knob back to exactly where it was before when we recorded the other instruments and now the keyboard wasn't entirely in tune with the track.  
About this time, Art came back to the session and had a hissy fit!  "Holy shit, Andy!  I leave here and we've got a beautiful rhythm track.  I come back an hour later and we've got shit!"  "No problem", says I.  Let's move on.  I'll cut the lead vocal track to the original instruments, slightly slowed down again, and we'll worry about re-recording the keys later.  OK?"  That's what we did. I had no idea if this would work or not!  
Later that week, we spent hours trying to fine-tune that bastard generator knob so we could cut a keyboard part that would be in tune with the rest of the track.  Man, we screwed up!  If you listen to the final mix today, you'll notice it's pretty close but not exactly in tune and the tempo is a bit fast.  It does add, what I called later, "that Hitchcock uncertainty that took us days to create", which sounded somewhat "artistic", though not the truth.  At least it was better admitting than we'd really messed things up and now we have no idea how to fix it.  So what?  "Artistic occurrences" happen!"  
By this time, the musicians from the curious bands whose players were deeply involved in a recording project without them were all wondering if I was going to steal their star players for my super group.  But we were nowhere near that.  
We worked on a couple of Rick Poss's songs during this time, too.  As we mixed the songs, Andy made us cassette copies of the recordings and I started preparing my list of contacts to call in the record industry I had met while I was with Carrasco.  
We also had a very late-night jam session with Glover Gill, who was in the Austin group D-Day.  Glover was an amazing keyboard player and he was game to come along and see what we were all about.  Although we didn't phrase it to Glover at the time, this was going to be a live audition; live in the sense that we were going to run through four or five songs and see what Glover could do in one or two takes max.  The recording of the four of us playing live in the studio together has an awesome amount of energy to this day!  
Armed with some great songs and the makings of what would be a great group, I started making calls to my contacts.  It's a well-documented fact that the music business and those in it, especially near the top, are in an ever changing, moment-to-moment state of being.  By the time I got back to most of my contacts less than six months later, all but one had moved onto other labels and or departments.   I did my best to get the stuff heard, but I was told there were no plans for new acts at this time.  After spending most of the summer getting new songs recorded and heard by those that could make things happen, it seemed like I had run out of viable options.  
This was good news for The Squares, and Rick Poss went back to the clubs with his band, leaving with a "call me if ya need me" wink.  Rick Richards went back to Walkee Talkee (2.0) who was sitting pretty in a cool club gig in Galveston.  After I left Walkee Talkee to join Carrasco, Randy Miller joined the band in my place.  Randy was a great guy, a great player, and a super singer and songwriter. Also, Danny had hired Michelle Dibble to manage the group's affairs after I left.  She did a very good job managing and booking the group. All I had now was a reputation, dyed blonde hair and a tan.  What I needed was a band.  
I started showing up to Walkee Talkee gigs to watch and sometimes sit in for a song or two.  Some folks buzzed about a Walkee Talkee reunion of sorts. Danny, Rick, Doug Hines, and I got together for a chat. Doug was their new keyboard player who had joined the group after Keith left to spend more time at Skyrocket.  After a long discussion, which included the fact that Randy Miller would soon be leaving the group to start his own recording studio like Keith had done, we decided to get back together to play out the remaining Walkee Talkee gigs and then form an entirely new band.  Everything looked like it was falling into place. But not so fast!  
Just as I was now looking to join forces with the guys for a brand-new band, a big meeting was called at Danny's apartment by Michelle.  Once we were all seated, she announced, "Well, gentlemen, it looks like you're all going to California to be on "Star Search!"  After a few seconds of congratulatory cheering, I said, "No, we're not.  You guys passed the "Star Search" audition with Randy playing in the band and if you want to do Star Search, you should do it with Randy.  I think that's fair.  If you guys go big, you should go big with Randy.  He deserves it.  If Ed McMahon doesn't shine the big star your way, we can pick all this up where we left off when you come home."  I think my move confused them at first, but it was the right thing to do.   
Danny, Rick, Randy, and Doug flew to California to tape their segment on the nationally televised talent show "Star Search" in 1984. An interesting side note to their trip is that when they arrived at LAX, the group who had just lost on "Star Search" was flying home.  That group was Sugar Creek whose drummer was Lynn Samples whom I'd played with in both Rockin' Jon and Cirkus!!  It would have been a total freak out if I had made the "Star Search" trip with the guys and ran into Lynn at the airport!  While one could just say it was a "small world" occurrence, I prefer to think it says something about the caliber of musicians I've played with.  Sadly, for both Sugar Creek and Walkee Talkee, no one could get more votes than The Sawyer Brown Band, the long-running Star Search favorite.  
By the time they came home, Randy reverted back to his plans to leave the group and open up his own recording studio.  Now the runway was clear for a new group to launch.