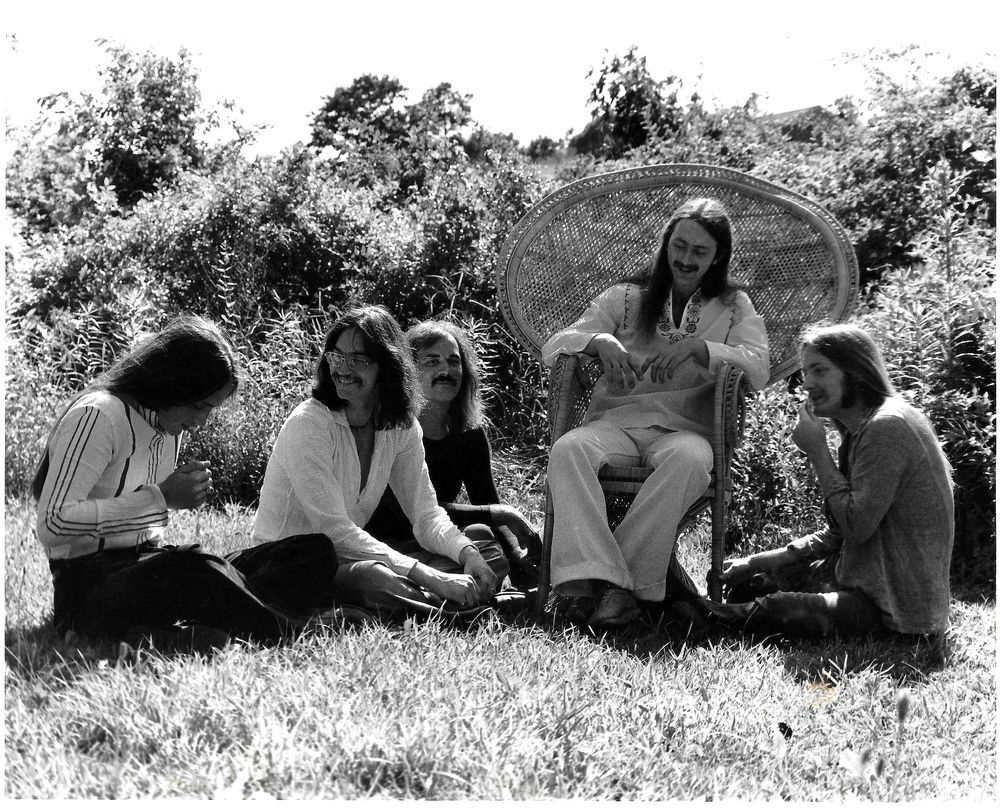 After Rockin' Jon 2.0 disintegrated in the winter of 1975, Steve, Lynn, Brad, and I kept getting together to jam at Patti's dad's warehouse.  The pressure was off to gig and soon our former road manager and sound tech Nelson Minnick, along with head roadie Butch Baker, started showing up at the warehouse with beer and a couple of other social lubricants to hang out with us.  We were having fun again!    
Inevitably, after a couple of months of "party jamming", the four of us were now eager to do some more live shows.  Rick Blackwell, our former lead singer, was now playing bass and gigging regularly with a really good band so we knew he was unavailable.  Besides, we didn't think our fans would accept a Rockin' Jon 3.0!    
As it so happened, the long-time staple Charlotte band Captain John's Fish Market had just broken up.  We contacted Rick Fitz, the lead singer of Captain John's, and told him what we were doing.  We asked him if he wanted to come by the warehouse and have a jam with us.  He said yes and after another month of solid practice, we were ready to play live again.   
Since four of the five members were Rockin' Jon alumni, when it came time to name the band, someone said "Since most of us are the children of Rockin' Jon, why don't we just call the band Children?  And so, we did!   
But Children ended up being a long-practiced, short-lived spinoff of the remnants of Rockin' Jon.  Our first live show was at a new Charlotte showcase club called "T.J. Flannagan's".  From the moment we started playing, the crowd seemed to hate us.  Maybe they were used to seeing us with Rick Blackwell?  Knowing Rockin' Jon's reputation, that put a lot of pressure on our new lead singer and he struggled to get through the gig.  Of course, that rattled us as well.  This was something none of us had experienced before.  We decided to drop back a few yards and punt until we could figure things out.   
We went back to the warehouse to re-work our set. We added some David Bowie and some Queen to our show and everyone was feeling good again.  In early June 1976, we were asked to open the show for Gregg Allman's new side band called "Cowboy".  The show was going to be at a large outdoor baseball stadium in Charlotte so we naturally said yes.   
The afternoon of the show, we arrived with our equipment, driving into the backstage area.  The entire stadium seemed almost deserted!  Rick knew the promoter well, so he went to go look for him to see what was going on.  He came back to tell us that the promoter's investors hadn't come through with the money to promote the show.  In other words, the public didn't know there was a concert that night!  A familiar feeling came over us when, at 6pm, we took the stage playing to around 100 people in an 8,500-seat capacity regional baseball stadium.   
While the promoter was hiding somewhere in that large expanse of concrete and empty seats, we went on and played our asses off.  After the first song, we knew something wasn't right with the PA system.  The normal spacious echo of the stadium sound was not right.  Although, we could hear that our monitors on the stage were working, though not great, we weren't hearing the music bouncing around the stands 400 feet away like it should.  Everything was muffled!  Was the PA even on?  Nelson, our sound tech, ran down to the front of the eight-foot high stage between songs to tell us that the promoter had rented a crap PA system and it wasn't set up right!   
During our next to the last song, the PA system finally kicked in and we could hear the familiar echoing delay bouncing off the back of the stadium and back to the stage.  There were now about 200 people there, but the place still looked decidedly empty.  We finished our set and ran off the stage.  We quickly noticed that the road crew from Cowboy didn't really seem eager to bring up their backline.  We also noticed that neither Gregg nor Cher were anywhere in sight backstage. 
I headed over to one of the iced trash cans backstage filled with Heineken and reached in for some liquid refreshment.  As I downed a big gulp of cold beer on that hot evening, I thought to myself, "What the hell am I doing?  I'm 21-years old.  Is my career over?  I need to think about this."  The rest of the guys seemed to have the same thoughts running through their heads.    
A week later, Children broke up.