The "Fresh Out!" EP Sessions - November 1981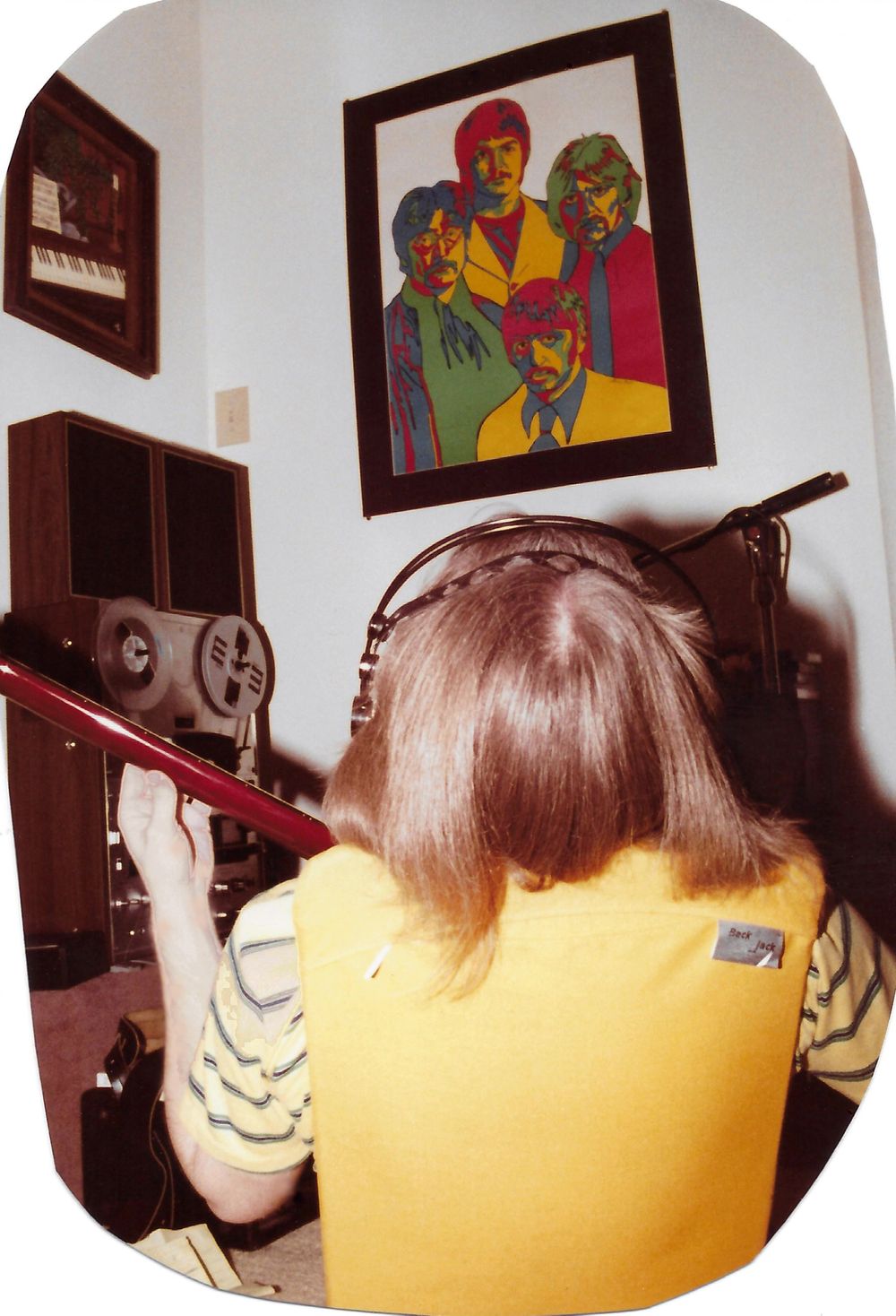 After my second trip to record with Norman Petty at his Clovis, New Mexico studios, I was "between bands", as they say, with no income.  While I figured out how to proceed with my music career, I started working as a data entry specialist at a company in Houston called Fast Tax.  Fast Tax was the innovator in computer tax return processing at that time for many Accounting Firms and Fortune 500 companies.  
The facility was managed by Vernon Long; a super nice, really smart guy who seemed to have an interest in my music and my struggle to keeping reaching for the stars. At some point towards the end of the summer of 1981, Fast Tax had grown exponentially, and Vernon was making bank!   
One day, he called me into his office and asked me what I needed to make a name for myself and to get back out there in the music business.  I told him I had been working on a few songs that were coming together really well.  I also told him that I'd been thinking about recording four of the songs and then pressing a record of them to send to record companies, management companies, and to try to get them into stores.  He said he'd be interested in helping me money-wise to make the recording session and record pressing happen.  Wow!  
I contacted a couple of recording studios in Houston and eventually found Wooden Studios in Bellaire, Texas, just outside of Houston.  During my first visit there, I discovered I really liked the feel of the place and that they were a 16-track facility.  The most tracks I'd ever had to record with to date was a couple of 8-track studios; 16 tracks sounded like a luxury to me!   
The studio owner was a guy named Gus Buzbee who was also a musician. We talked for a while and he quoted me a package deal that included twelve hours of recording time and 1,000 vinyl EP records.  It sounded like a great deal!  
The next day at work, I told Vernon what I had found, and he said, "I'm in!".  Now all I had to do was polish up the songs and the harmony parts and overdubs I'd been carrying around in my head for the past three months, find the right musicians to record with, book the time, and do it!  
The first musician I turned to was my former guitarist in Cirkus, Richard Morant.  Richard was the absolute best rhythm guitar player I'd ever worked with, plus he had an affinity for The Beatles like me and I knew that would be helpful for the guitar parts.  Richard suggested an additional guitarist named Danny Kristensen who was another Circus alumnus before I joined the band.   
I called Rick Richards, who had come along with Rick Poss to Art After Work studios the year before with Richard and I to record a couple of my songs.  Rick was very enthusiast about playing on the sessions!  I now had an ensemble of great musicians!  
In My (Room) Studio  
The heart of my home studio was a Sony Four Track reel-to-reel tape recorder.  I always felt very creative sitting across from it, working out new ideas and playing with song parts, arrangements, and harmonies.  A four-track recording machine was an odd playmate but it was one that allowed me a few extra dimensions to work with during the song writing process.  
There is something wonderfully creative about working with a multi-track recorder while writing.  It's like a painter having more colors to paint with to help them create more dimensions in their work.  The opportunity to record different ideas separately, listen to them back, change one or two things and then play them all back together in an appropriate volume mix afforded me a better starting point or "demo" to share with other musicians.  I spent hours and hours working out parts to the four songs we'd be recording for the record.  
As song arrangements finalized, I made cassette recordings and passed them out to Richard, Danny, and Rick.  I worked with them individually on very specific parts of the songs with me going back and forth from playing the bass and the guitar to work out the parts. I really didn't want to over-rehearse the songs with everyone as a band because of the way I'd worked out all the parts ahead of time.  I wanted everyone to be fresh when we went into the studio to put the parts together.  I pretty much knew what I wanted where in the songs, at least melody and harmony wise, but there were places where I wanted the individuals to jump in and add some spontaneity.  
Wooden Studios  
In November 1981, the four of us went into Wooden Studios to record the basic music tracks for A.M. Romance, You Do, This Is It, and Terminally Hip. This was actually the first time we had all played the songs together and the rhythm tracks sounded energetic and fresh!  Thinking about the upcoming overdubs I had in my head, I knew we had something really special going down on tape here!  
My package deal with the studio consisted of three four-hour sessions. On that first night, we got great basic music tracks, two electric guitars, bass, and drums to all four songs.  We had about an hour left in the first session, so I recorded all of my rhythm acoustic guitar parts on all three songs while the guys listened in the control room.  I had rehearsed all the parts, so they were done very quickly.  I'd come in after each good take and everyone would be buzzing with ideas for little sweetening parts here and there.  The creative atmosphere was amazing!  Richard said he had an idea for an acoustic guitar duet for the bridge parts of You Do, and I suggested he work it all out and then we'd record that at our next session in which I hoped we could get all of the instrument overdubs in the can. Before we left, I got rough mixes of all the tracks and made more cassette copies for everyone and I worked with Richard and Danny together on some cool guitar ideas for the overdubs session.   
The first thing we did at our second session was Richard's acoustic guitar duet for the bridges of You Do.  He's such a brilliant guitar player and is great at orchestrating parts that I knew he'd come up with something wonderful.  I was a bit nervous about spending too much time experimenting, as the clock was ticking!   
I went into the studio control room to tell Gus what he wanted to record next and to set up for this.  By the time the microphones were in place, Richard was ready to record.  He did the first guitar part in one take and most of the second guitar part on the first take with one punch-in!  Both overdubs only took about ten minutes.   
Richard and Danny also recorded some electric guitar support parts for This Is It and then I put down a double tracked acoustic rhythm guitar part on the song.   
Patti came with me to the studio that night so that we could create an edit piece for the introduction of A.M. Romance. The song is about a young, single woman who's burned out at her job and the only thing that gets her through her day is listening to the disc jockeys on her radio.  Gus brought in a blanket for Patti to lie down on the studio floor and then he moved a microphone into position next to and over Patti on the floor so we could record some nice waking up yawning sounds.  I positioned myself on the other side of the studio with an alarm clock.  The edit piece starts with the alarm clock going off and as soon as it gets stopped, we hear a woman yawning.  But the first couple of takes were hilarious, as the yawns sounded more like pleasurable sounds!  We all laughed hysterically for about ten expensive minutes but we finally got what we needed.  
The next part would be to record the sounds of a radio's tuner knob being turned on a small AM radio, as if the woman was searching for her morning DJ's show.  After a few seconds of that, we did a hard edit of the fade out of the alternate mix of my song Survival, as if the woman had stopped turning the dial as soon as she heard that song playing. Then, we had the DJ voice come in doing his, "Good Morning!  It's John Dennis …" schtick (voiced by yours truly!) just over the song's fadeout.  The DJ sets up the song A.M. Romance and then the song starts.  All of that all took a little longer than I'd planned but it worked out really well.   
After that, I had to do my acoustic guitar intro lines on A.M. Romance, along with an electric 12-string guitar part that played throughout the song.  Then, I added two acoustic guitar parts and a harmonica on You Do.  For the bridge parts on You Do, I wanted a sharp rimshot sound on the snare.  Even though Rick did that on the original basic track, the snare drum rimshots did not cut through the mix well enough.  I finally ended up tapping two cassette boxes together that was doubled with me hitting the side of one cassette box with a drumstick.  Mixed together with the original snare drum rimshots, it worked!   
The last few things I recorded that night was the electric lead guitar part that I doubled with my Hohner melodica on This Is It.  I also recorded a Magnus Chord organ on the fade out of This Is It and recorded a piano part for the outro of Terminally Hip.  
Gus said we still had about 15 minutes left in our session so I turned to Danny and said, "Do you think you could wing a crazy, high energy lead guitar part on the outro of Terminally Hip?"  He said, "Sure!".   
It's important to point out here that on our very first night of recording the basic music tracks, I'd told everyone that Terminally Hip was going to be a fade out.  But on that night, just for fun, we recorded past the fade out point with Rick and I playing some fun drum fills and over-played bass lines off each other.  We then did an exaggerated "live" ending, complete with a stinger ending chord on the bass.  Good fun!  
So, Danny got his guitar and amplifier ready for the crazy lead guitar ending while Gus brought in a couple of microphones.  We left Danny out in that big studio all by himself and the rest of us went into the control room to see if we could capture some magic on tape!  I asked Gus if he had any effects that had a digital delay or a repeat echo I could mess with while Danny was working with his sound.  I told Gus not to put my effect into Danny's headphones just yet until we were actually recording so I could experiment some before the red light came on.  I finally found a setting I wanted to try and Gus backed the tape up to just before the guitar solo comes in at the end.  Gus said into the headphone intercom "Let's try one!" and Danny gave us a thumbs up.  
Gus started the tape and then punched Danny's guitar into the track at the right time and away we went!  Danny started playing his ass off on his lead and I started hitting the echo/repeat button on and off at the end of each riff Danny was playing.  This was the first time Danny had heard this effect and when started playing with the effect, it sounded great! The result was one of those parts you just can't write ahead of time.  The lines had tons of energy and everything worked great in the track, all the way up to the hard ending.  The guitar lead was captured in one take!   
Now, all we had left to do was vocals; all those vocals!  I had planned on doubling every lead vocal and some of the harmony vocals.  Every song had at least three harmony parts and I had planned to sing all the parts, which meant they'd all have to be recorded one at a time; rewind the tape, record the next part, rewind the take and record the next part, etc. All totaled, this came to something like 30 separate vocal parts that would need to be recorded in one four-hour session and I was pretty nervous about it.  
A few days later when I booked the vocal session, which would the last recording session in our package deal, I asked Gus what would happen if we need more time to record the vocals if I just couldn't physically do all those tracks in four hours.  He said he'd throw in a couple of extra hours for free, as he was enjoying what we were doing. OK, that took a little bit of the pressure off!  
Preparing for the vocal session and with only a few open tracks left on each song, I put together a recording "road map" for Gus so we could use the remaining tracks efficiently.  
I arrived at the vocals recording session a few days later to see two huge microphone boom stands with microphones attached to them and a small stool to sit on.  There was nothing else in the studio. Oh, man!  
The easiest vocal parts were on Terminally Hip, so we recorded those first.  Then we did This Is It and You Do.  I was very happy with those takes.  Then, I did the doubled lead vocals on A.M. Romance and added the three-part harmonies on the ending.  
We only had about a half-hour left in this, our last session and I still needed to double track the first two lines of each verse of A.M. Romance.  But by this time, my voice was really sore and I didn't know if I could do it.   
Danny had dropped by the studio a bit earlier to check on things and to lend some support.  I asked him to come out into the studio and sing with me on the double tracked part live with me on those lines.  He did and they really sounded nice!  I liked the sound of our voices together and made a note of that!   
Finally, all the parts were recorded and it was time to mix.  Gus sat me down and said we'd need to add some extra hours to our deal, as we'd already used all twelve hours just recording.  Dang!  I hadn't thought about that ahead of time!  Now I'd have to go back to Vernon for some more money to mix the record and create a master tape to send to the record pressing plant.   
The next day at work, I told Vernon how great all the songs were turning out but that I had underestimated the amount of time it would to get all the parts on tape.  I told him I needed another $300 for another four-hour mixing session.  Vernon immediately reached for his check book, wrote a check for the $300 and said, "I can't wait to hear it all!"  What a great patron!  
In the meantime, I called Richard Thomas who had been one of the musicians on the sessions I did with Norman Petty a little over a year ago.  Richard and his wife Linda owned a graphics company so I asked him how much it would cost to make the sleeve for the EP and he suggested I come by their office for a visit. Over lunch, Richard quoted me some ridiculously low price to design and print the cover, along with a lyric sheet insert.  He also offered to come by the studio and help me mix the tracks for the record.  The least I could do was pay for lunch!  
I went back to Wooden Studios and gave Gus the extra $300 for the mixing session.  With Richard Thomas's help, we mixed the songs and made a master tape to send to the pressing plant.  
About a month later, I received 1,000 vinyl EPs in twenty boxes of fifty records in each box.  When the covers were finished, Rick Richards and I spent an entire day removing the plain white sleeves that came with each record and reinserting each record into the new sleeves with the lyric sheet insert.  It was a labor of love!  
Now it was time to do something with all those records!