Herman's Hermits starring Peter Noone 1991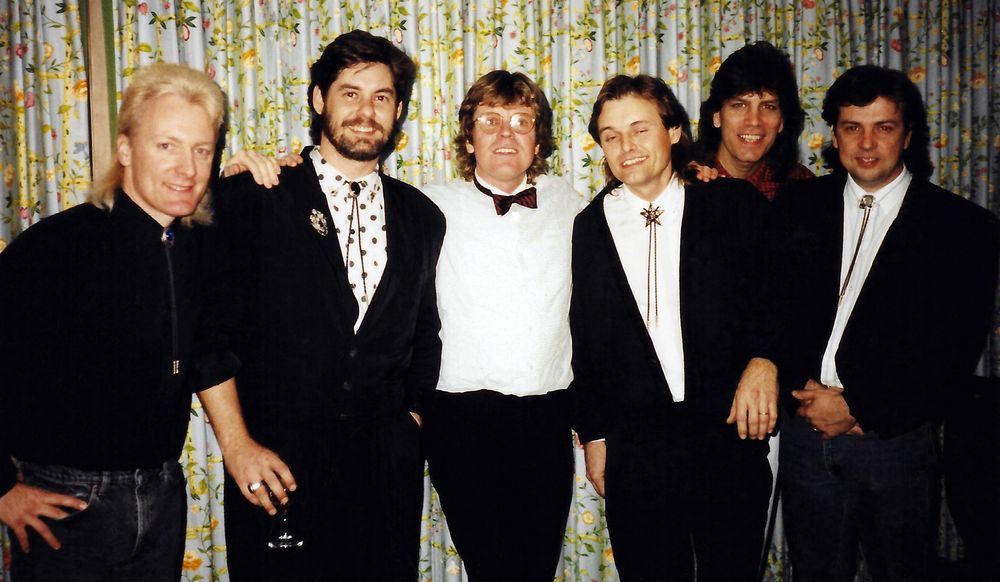 When the agent called me about Private Numbers performing with Peter Noone as his "Hermits" for a gig in Houston, I'd already been feeling like I was on my way to being an "oldie".  With this one phone call, it looked like I was finally going to be playing with a real one!  
Frank Annunziata, Peter's musical director and guitarist, sent us a cassette tape of the Herman's Hermits set for us to learn.  The tape contained all of The Hermits' greatest hits, plus a few cool album cuts.  Learning these songs was very easy for us because they had already been drilled into our brains for decades.  We also worked out a few harmonies to surprise Frank and Peter.  
The group rehearsed with Frank the afternoon of the show.  We weren't even going to see Peter until the show started!  "That's the way Peter likes to work", Frank said.  
That night, we started the show with a long musical introduction of Something Good while Frank did the Master of Ceremonies job announcing, "Ladies and Gentleman!  After more than (then) 35 years in the music business and having sold more than 60 million recordings with 14 gold singles and seven gold albums worldwide, please put your hands together for Peter Noone!  
With that cue, Peter came bounding out of the dressing room dressed in a spiffy tuxedo and clapping his hands to the music, just like he did on The Ed Sullivan show of June 6, 1965!  The place went nuts!  After that, we went right into I'm Henry The Eighth and Mrs. Brown You've Got A Lovely Daughter. Peter was great with the crowd and very spontaneous on stage and it was lovely working with him!  The entire evening was a delightful blur.  It was all over too soon and we found ourselves taking photos and saying goodbye to both Peter and Frank.  
I've stayed in touch with both Peter and Frank over the years since then.  I went to see Peter's show with his latest Hermits lineup a few years ago in High Point, North Carolina.  He still looked and sounded great! I introduced him to my daughter who was born just a couple of weeks before our gig with him in Houston!  He sweetly told Valerie what a "great musician" I was and I got a great photo of the two of them.  
This was just another chapter in the "Keep Showing Up!" chronicles of my life!