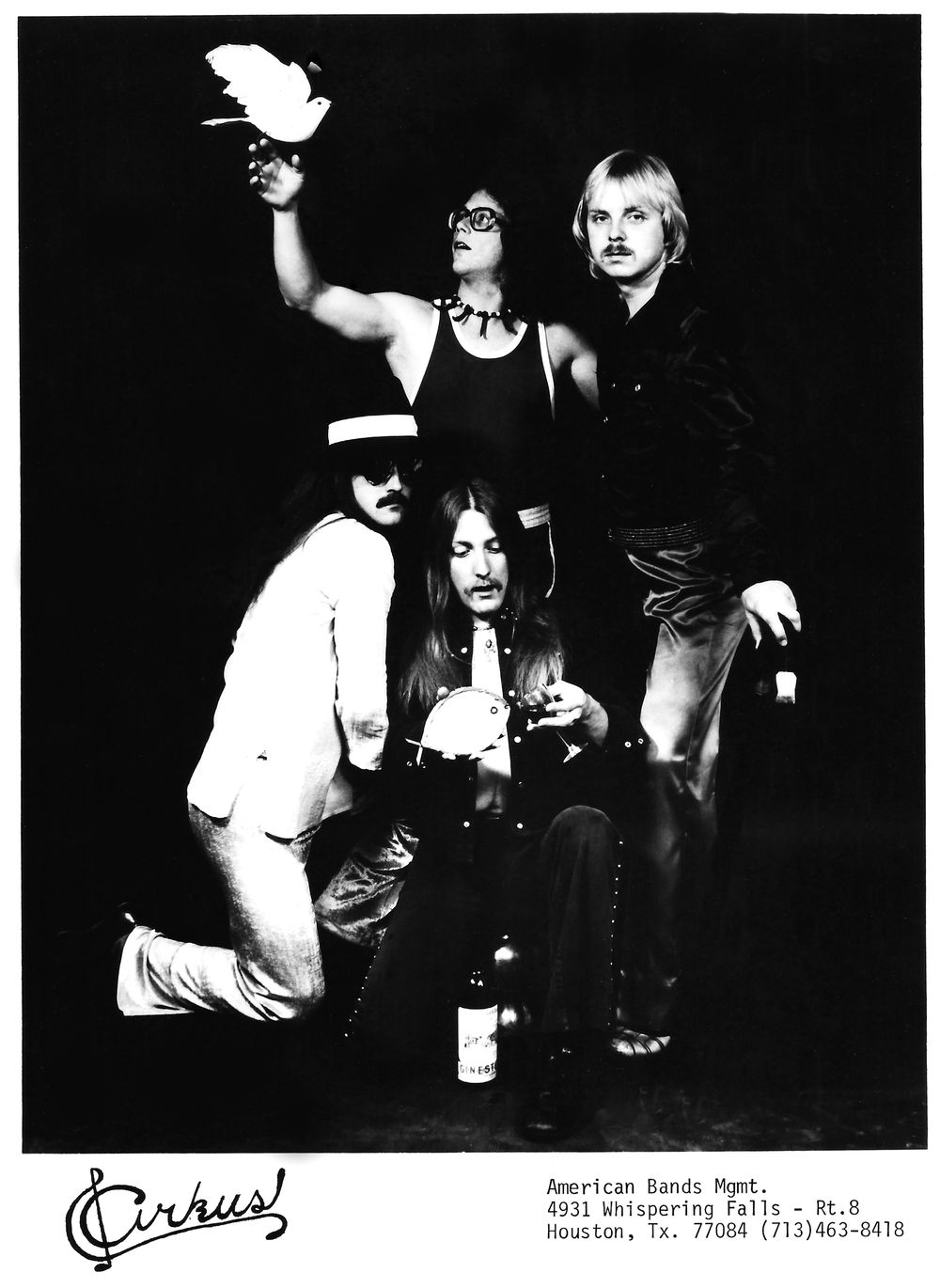 When Children broke up just after the disastrous July 4th gig, I was feeling a bit rudderless musically.  My mom had recently transferred from Charlotte to Houston to work with the same corporate tax firm she'd worked for in Charlotte.  I called her one night to discuss my musical dead end and she suggested I visit Houston and check out the music scene there.   
Patti and I flew to Houston to visit with my mom.  The next day, I went to a local music store there called The Musician's Shop and met a British guy there named Richard Morant.  We talked about our mutual love of The Beatles and then Richard told me they were looking for a new bass player for his band Circus. I told him my story and he suggested I come to audition.  A few days later, I found myself back at the music store where I met Richard's drummer Dick Ross and keyboardist Syd Hooker.  After a few songs, I was asked to join the band and I said yes!  
Circus was a touring band and on the road constantly.  Patti went back to Charlotte to continue her job at The Charlotte Observer newspaper while I set up camp at my mom's apartment.     
Circus's booking agency was called American Bands Management, which was owned and operated by a guy named John Bloomstrom.  John was a great guy but we teased him relentlessly about not being very good with a Rand McNally Road Map Atlas to plan our tour dates.  For instance, when questioned as to why he had booked us for one-nighter in Galveston, Texas, the next night in Amarillo, Texas (a 650 mile, 10 ½ hour drive) and then the next night in Shreveport, Louisiana in the opposite direction (550 mile, 9 hour drive), John would said, "Well, all three towns are only four or five inches apart on my map!"  Later, when I checked the distance per inch legend on his map, I noticed that each inch on the map was 100 miles!  This sort of traveling and gigging schedule exacted a price on one's body and mind, even in our early twenty-something selves.  We always had to make a two-out-of-three decision everyday as to whether to eat, sleep or shower.  We could usually do any two, but never all three in one day due to the constant driving.  
We played dozens of gigs the rest of that summer and into the fall.  Patti and I had started talking about getting married and it looked like the best time to do that would be November 1, 1976; the day after Halloween! Perfect!   
As luck would have it, we were booked at a club near Houston Intercontinental Airport in Conroe, Texas on October 30 for a big Halloween gig.  I booked a 3:00am flight to Charlotte via Atlanta and I promised the band I would be back the following Thursday so we could leave for a show in Austin.  Immediately after our Halloween gig, I packed my guitar into its case and then our roadie Richard Horebelt whooshed me off to the Houston airport.  
I made the flight just in time.  Arriving in Atlanta, I had to change planes (of course) to get to Charlotte.  In those days, the Atlanta airport in the early morning hours was not very crowded at all.  As I was walking down the long concourse wearing my shoulder bag and carrying by bass, I noticed two people about 100 yards in front of me walking side by side with one looking the worse for wear.  As I got closer to the couple, I realized it was Gregg Allman and Cher!  When we got about 10 feet from each other, I could see that Gregg was out it and leaning on Cher.  Cher looked up at me, smiled and said "Hey, babe!  You look like Gregg!"  Haha!  I laughed and kept walking to my gate, enjoying another "Keeping showing up!" moment!  Two days later, I was a married man!  
Patti & I were married on Monday and the next morning we left for Houston in her green Ford Torino with all her things, the rest of my things and two cats. Two days later we arrived in Houston.  After we had unpacked everything into our new apartment, we dropped off the rental trailer, came home and passed out in our hurriedly made bed.  The next morning, I left for Austin with the band to continue our fall tour.  I managed to make it home to Houston for a brief Christmas celebration with Patti and my mom but soon we were back out on the road.  
After the brief Christmas break, our drummer Dick Ross wanted to leave the band.  Our first show after Christmas was going to be in the Dallas area, so we left a day early and headed to the local music store to look for a drummer.  We found a guy there named Rick Harrison who looked to be our guy!   We played a show with him the next night in Denton, Texas, not far from Dallas.    
Over the next month or so, it became apparent that Syd, our keyboard player, wasn't having much fun.  He turned in his notice to leave the band and we found ourselves in Dallas going to music stores to find a new keyboard player.  We found a guy who'd made all his keyboards and electronic effects from kit parts.  We played a few songs with him in our hotel rooms and enlisted him into the band.  He had his entire rig stuffed into six large cardboard boxes; not exactly the best road cases for a traveling band.  I can't even remember the guy's name and, after just a few shows of watching constantly trying to "fix something" during the show from one of his many cardboard boxes that littered the stage, he was fired.  We dropped our recently fired keyboardist off in his hometown of Dallas and then the three of us headed off to the closest Denny's restaurant to try to figure out what to do.  
I told the guys about Steve Poteet, the guitarist from Rockin' Jon and Children and suggested that he might be a good musical fit talent and show wise to keep us gigging.  Richard thought I should give him a call and see what he thought.  I got up from our table at Denny's and walked over to their pay phone to call Steve.  It was mid-afternoon and Steve have just gotten home from his day job as the manager of a sandwich shop called Arthur's.  We had a great chat and he asked how soon he was needed.  I told him we had a big show in Dallas in two nights and asked if could he come tonight so we could get a day and a half of good rehearsal in.  Steve being Steve said "Sure!"   
Six hours later, we met him at the Dallas airport and drove back to our hotel.  We had already rented a Marshall amplifier for him and it was in the room, along with basic rehearsal gear for the rest of us.  We rehearsed that night at super low volume and then Richard disappeared with Steve to talk through the sets to see how the two of them could best cover the guitar and keyboard parts between the two of them on guitars.  After a few shows, we were sounding great!  Steve also played flute and sax and our song list really blossomed.  Steve and Richard also worked out the guitar lead duets in "Hotel California" and Richard sang his ass off on that song!  We got a standing ovation every time we played it. 
Being on the road constantly is not glamorous at all.  It's very hard, tedious work and sometimes it's downright dangerous!  I felt like I was getting the flu one night in Oklahoma City and a band mate had given me an ampicillin tablet to take.  Ampicillin is a high potency penicillin antibiotic and I took the pill just before our first set.   By the beginning of our second set, I was having an allergic reaction to the drug that created a very painful swelling in my nether regions.  I spent the rest of the show sitting in a chair with my microphone lowered in front of me so that I could sing harmonies.  After the show, I was taken the emergency room where the ER doctor who worked on me said my heart had almost stopped.  No more non-prescribed drugs for me!  We left the next morning in three feet of snow to get to the next gig.   
By now, our drummer Rick Harrison had left the band and we had acquired a guy named Brad Fells.  Brad was also a chock full of personality showman like the rest of us, plus he also sang lead, which took a lot of pressure off the rest of us.  
We played the next night in Killeen, Texas at the Fort Hood army base which happened to be where Elvis Presley had done his basic training when he was in the Army.  During our show, a couple of enlisted guys brought us some champagne which he gulped down before the last set started. About 15 minutes into our set, I noticed I was feeling really weird.  I started taking my hands off my bass mid-song, looking over at Richard and saying things on the mic like "My hands are attached to my arms!"  Uh oh … I knew what this was!  Those guys had put acid (LSD) into our drinks!   
Our new drummer Brad collapsed over his drums at one point, freaking out saying "Man, man, man …"  Richard didn't drink his champagne so he was OK.  He and Steve played a few guitar and voice-only songs while I talked Brad down.  Somehow, we got through that gig!  
On this tour, we received word from our agent that there was another group with the name of Circus who'd been using the name a few years longer than us, so we had to change our name.  We ended up cleverly changing the name spelling to "Cirkus".  Cirkus went on to have more weird escapades on the road as well as more personnel changes.  The last version of the group ended up being Richard, Steve Poteet, former Rockin' Jon/Children drummer Lynn Samples and myself.   
By the early fall of 1977, Cirkus began to disintegrate and I just about did too.  I'd been on the road for almost two years non-stop and I was exhausted.  I remember coming home for a few days after one of our last tours.  Opening the door to our apartment, Patti took one look at me and started to cry.  At first, I thought she was just happy to see me.  But after our hug, I pulled back and saw the horror in her eyes.  Now I was scared!  "What?", I said.  "You look awful!", she said.  "Just look at you!"  I went into our bathroom and looked at myself in the mirror.  I was gaunt, ashen and drained.  My normal weight of 160 pounds was down to 125 pounds.  The band and the road had practically consumed me.  
We had a few gigs booked in town that next week and I figured it would be no problem.  I'll have few days off at home to rest.  I'll play with the cat, we'll go to some movies, I'll eat great Mexican food and everything would be OK.  But the rock gods had something else in mind.  
Our next gig was in town at a club called The Dome Shadows which was a rock club just across the parking lot from the Astrodome, hence the name.  We always thought the name of the club was stupid, so we called it The Dumb Shadows.  Anyway, during the first set I was feeling a bit week and weird and sort of "tingly".  We kicked into "Johnny B. Goode" and I started singing.  Then I left my body.  Only this time it wasn't the acid.  It was ME!   
Suddenly, just like the solider who'd finally just seen enough of the war-torn bodies covered with blood, I shut down – literally.  I just stopped playing and singing in the middle of the song, walked off stage, put my bass in its' case and told Patti "I have to go home now".  It was a full-blown panic attack. I had to get out of their or I was going to die.  I apologized to the band.  Patti and I got in the car and we went home.  
I spent the next two weeks laying in front of the TV sipping Coors beer out of the can through a straw and eating grilled tuna fish and Swiss cheese sandwiches.  It was great!  This was the first real break I'd had in almost 18 months.  I now had the time to slowly repair my road weary brain and body.  I decided not to try to rejuvenate Cirkus and instead reevaluate everything.  
Steve and Lynn had just moved to Houston from Charlotte and I felt awful about leaving them and Richard in the lurch.  But I was in a very bad place mentally and physically at the time.  Similar to a traditional traveling circus, the band Cirkus consisted of multiple performers working together as a group to put on the best possible show night after night. In less than 18 months, the band employed ten musicians; Richard Morant, Dick Ross, Syd Hooker, Brad Fells, the keyboard kid from Dallas with all of his equipment in cardboard boxes, Rick Harrison, Joe Gavi to, Steve Poteet, and Lynn Samples.  Due to our insane touring schedule, most of these players were worked into the band without stopping longer than a day at the most to work them in. Joe Gavito actually auditioned for the band at the next gig with zero rehearsal and only a few cheat sheets! Is it any wonder I finally cracked?  
After a few weeks of badly needed rest, I met a guy who lived in the apartment complex across the street from mine.  His name was Dennis "Doc" Watson.  He had two Teac four-track tape recorders and some pretty cool keyboards.  Dennis was trying to get some players together to record some new music and asked me to come play.  I was reluctant at first, but decided to go check out what he was doing.  He knew a hot-shot guitarist who also happened to co-own the music store Rockin' Robin in Houston named Dave Wentz.  Dennis also enlisted a vocalist named Ray Salazar and a guest drummer whose name was Mike.  
One afternoon, I brought along my Rickenbacker bass and Moog Taurus bass pedals and we ended up making a great noise together!  We recorded three songs, bouncing back and forth between the two four-track machines to squeeze in extra overdubs.  The final mixes came out really well, though they weren't terribly commercial sounding.  The final product sounded like a mix of Genesis (Peter Gabriel version), Gentle Giant, King Crimson and Yes.  
Dave kept telling me that he wanted to go to England and find a band to play there, using our tape as an audition.  That sounded interesting!  Dennis had a few friends in London, including one guy named John "Rabbit" Bundrick who now happened to be playing keyboards with Peter Townshend and The Who.  
Rabbit was from Houston and had played with Dennis in a previous band along with drummer Tony Braunagel, who was also a Houston native.  Rabbit and Tony had played in a group called Backstreet Crawler.  The band was doing quite well until their guitarist Paul Kossoff, who was the "All Right Now" guitarist from the group Free, overdosed and died in mid-flight after an American tour while the group was on their way back to London.  
I also knew a Scottish guy in Houston named Robert Montgomery who had been a roadie for Elton John and Kiki Dee on the joint tour.  Robert turned me on to Nigel Grainge who was the manager for a new group called The Boomtown Rats.  Now, I was starting to put together a bit of a contact list for my own London attempt at getting a "backdoor" record deal.  A number of American bands had done this successfully in the past.  London is a big small town when it comes to the music business.  In those days, it was a lot easier to get an independent British record label to pick up your song, press a few records and then try to get it into the record charts.  If there's any success in doing that, many US record labels will entertain the idea of signing the artist to their label.   
The group Blondie had sweated it out in the NY club scene for almost two years before going over to England to be "discovered", signed by a British record label and then pulled off a "direct from the UK" pitch back to the states with a hit single.  Hendrix had done the same thing back in '67.  Why not me?  All I needed was a band.  
Patti and I started making tentative plans to make a trip to London after Christmas 1977.  The first thing we looked into was lodging.  Cirkus guitarist Richard Morant's wife's brother and partner would put us up for a week or so until we got our own flat.  We had about $800.00 saved up, plus we were game to fly over via Freddie Laker's new "no frills" airline called "Laker Airways".   
It was time to reinvent myself once again!