Small Beginnings 1968-1969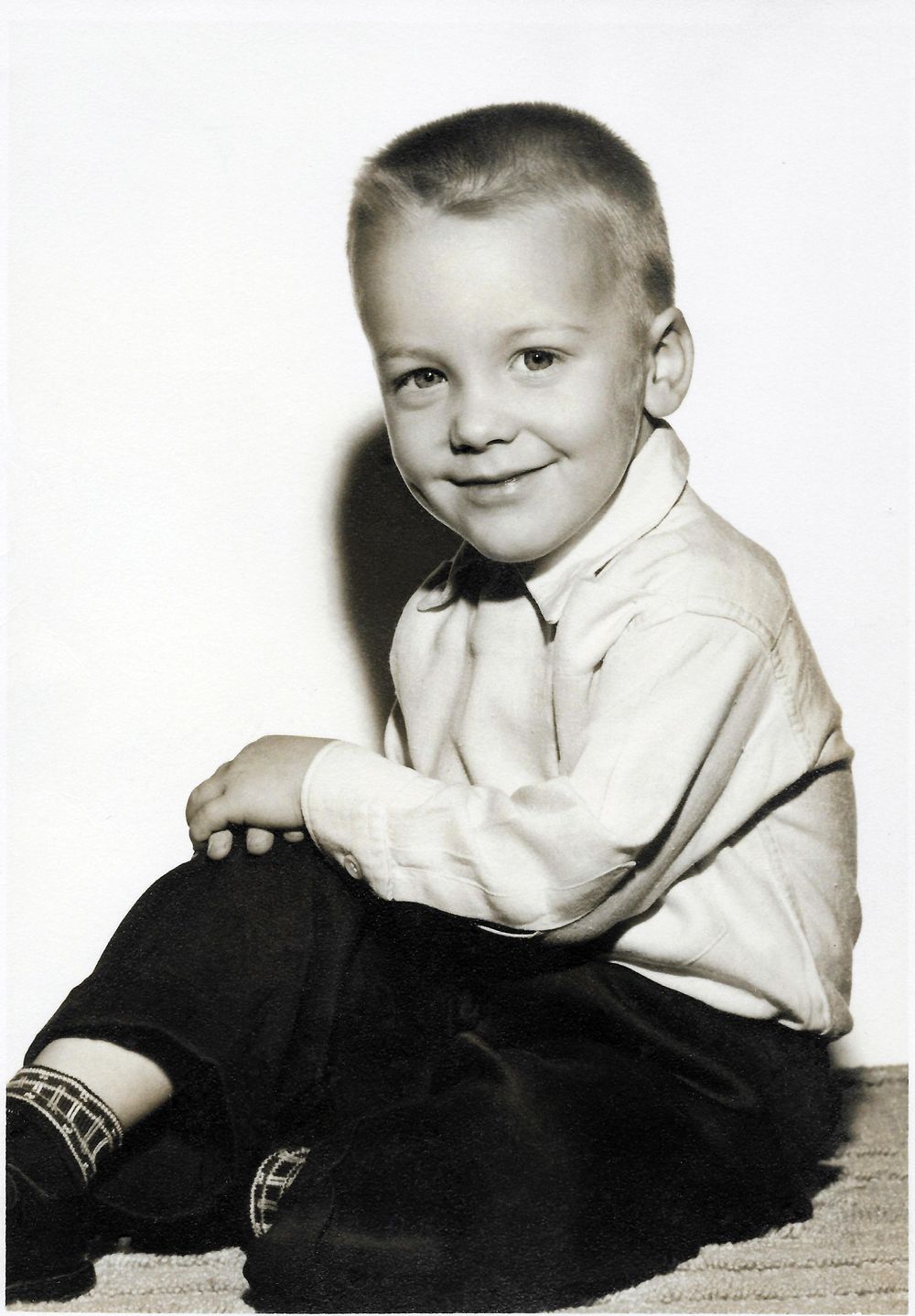 In 1958, when I was four years old, I remember seeing The Big Bopper sing Chantilly Lace on TV.   I don't remember having the record, but it was on the radio all the time and I somehow learned the song.  Whenever I had an audience of at least one, or my dog Lady, I used to jump up on the family's outdoor picnic table and perform the song.  One of the few memories I have of my dad is him laughing his ass off while I did my best rendition of the song and him referring to me as "The Little Bopper!"  I soon discovered how much fun it was to have people react positively to your performance.  That experience planted a big seed in my brain!  
It's interesting that, in another twenty years, I would have a double brush with both The Big Bopper and Buddy Holly when I got to record three albums in the same studio where The Big Bopper recorded Chantilly Lace.  I would also get to work with Buddy Holly's producer/manager, Norman Petty, on two separate occasions.  These are those "Keep Showing Up!" moments that happened to me constantly during my music career and also now in my everyday life.  But let's get back to our story …  
Of course, I remember seeing Elvis on TV when I was young.  While I thought he was cool and that he was a great singer and performer, there was something silly about his movies that prevented me from taking him too seriously as a musical force. But, on Sunday, February 9th, 1964, I saw The Beatles for the first time on The Ed Sullivan Show and everything changed!  Their two performances that night got permanently etched into my brain and I thought to myself, "That's a good job!"  
Fast forward to June of 1968 when I began showing up at Doug Turner's house on Friday nights to play music with fellow school chums, Greg Gisinger and Harold Kidd.  Greg was a funny guy who, like Doug, played guitar, and Harold was a fellow cornet player in the school band who fancied himself as a drummer.  He didn't have any drums, but a couple of us had pieces of a drum set and we all brought whatever we had for Harold to bash away on while we made our noise.   
My mom had managed to rent me a green sunburst Harmony bass and small amp from a music store for the summer, so that made me the bass player.  My qualifications were that I could play the bass parts to all of mine and my sister's 45 records, which I used to stack up about 10 records high on the record player spindle/changer and play along as each one dropped.  After the first 10 sides had played, I'd pick up the stack, flip them over and start on the other sides.  I would do this for hours without interruption.    
Our record collection was diverse as my sister was into the Motown Sound and beach music, and I was more of a Beatles fan.  I'd figure out the bass parts to The Supremes' Baby Love, and then The Beatles' I Feel Fine in whatever order they dropped and played.  I got quite good on the bass parts to those 20 songs.  Then, I'd grab another stack of 10 records and start the process all over again.   
On Fridays after my mom got home from work, I'd put my rented bass and amp, along with my used snare drum and floor tom that had a little crash cymbal clamped to the side of one of the legs into the car and she would take me to "band practice".   
Doug Turner lent me his brother's Cream album with a warning of not to scratch it!  I learned Sunshine of Your Love, which was really just a riff pattern and three other notes for the change. But it was pretty impressive to the guys the first time I played it for them.  We probably spent two hours learning that song.  Of course, Doug's guitar lead on the break wasn't quite as good as Eric Clapton's but, as long as it was loud it sounded just fine to us.    
Not only did our musical prowess impress all the cute girls who sat on the driveway outside the garage while we made our noise, there were also two other musicians who lived across the neighborhood who could hear our loud musical efforts.  That was Charlie Ritchie and Tom Nelis.  Little did I know that I'd be playing in a band with them soon!  During the rest of the 1968-1969 school year, I continued working on my skills and seeking out new musicians to play with.  It seemed like everybody in school either played in a band or wanted to start a band!  
On May 9th, 1969, I went to a concert in Charlotte to see The Jimi Hendrix Experience.  This was three months before Woodstock, but I'd already heard of Hendrix and I had the Are You Experienced? album.  According to the ticket stub, that I still have, I sat in Row E (5th Row) in Seat 1, which was right in front of Jimi!   
I was surprised and mesmerized by the Jimi's opening act, the Chicago Transit Authority, soon to be just, Chicago.  Loud electric guitar, keyboards, and brass instruments!  They were amazing!   After Chicago's opening set, I walked up to the front and side of the stage to stare at all the Marshall amplifier stacks being set up on either side of the drums.  I couldn't see very well because there was a short guy wearing a big purple hat with a bright yellow paisley sash in the way.  I kept trying to see around that hat to get a look at the equipment, when suddenly the guy turned around.  It was Jimi Hendrix!  Wow!  "Jimi!", I said, "What are you guys gonna play tonight?!"  He smiled, reached out his hand. we did the "cool handshake" and he said "I dunno, man.  We're just gonna be beautiful!" and then he left.   
I went back to my seat and told my friends I'd just met Hendrix and, of course, they didn't believe me.  So, I described everything we was wearing and when he came out, my friends all looked at me with more respect!  That show left an indelible impression in my mind and my musical soul forever.  The guy played the guitar like he was not of this Earth!  I will never forget it!   
The upcoming school year would soon set me on a course to join my first legitimate group!