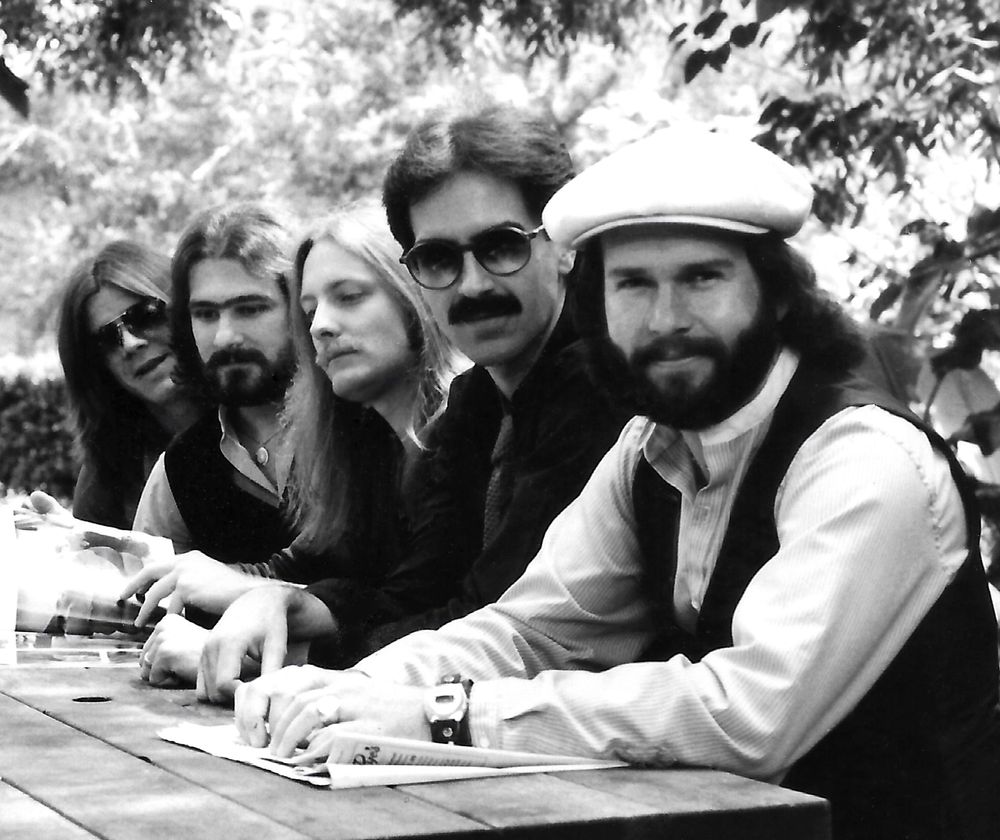 After we got home from England, Patti and I were exhausted.   In general, trying to survive on our limited funds in our small one-room flat in the quaint little borough of Lewisham just outside of London was becoming a struggle.  Some days, we didn't eat at all and once, we might have sneaked downstairs to "borrow" a can of soup from our landlord when he wasn't home.    
Back in Texas, I looked up Dennis Watson, whom I'd worked with the previous fall to record my London demo tape. We talked about forming a band with a drummer he'd met named Gary Dudley.  We enlisted Ray Salazar again, the vocalist from my audition tape, along with a guitarist named Wayne Holt.  We spent a solid month working up about forty songs so we could start gigging in the clubs.  We learned songs by Yes, Led Zeppelin, 10cc, Styx, Foreigner, Jethro Tull, Genesis, and many other progressive rock bands.  We also set up recording equipment in our rehearsal spot in Dennis's den to record more of our original songs.   
The caliber of musicianship in this band was quite high.  We used to have many respected musicians come just to see us play Yours Is No Disgrace by Yes and other showy tunes.  We tripped the audiences out with our prog-rock material and we kept them dancing with our flashy Led Zeppelin medley and other fun-to-play audience favorites.  Artisan put on a show at every gig.  We had a fabulous light show run by my wife Patti, who also did a great job running our sound.   
One night our singer, Ray Salazar showed up very late to a gig, copped an attitude and left the band that same night.  With shows already booked, we scrambled to find another lead singer as fast as we could.  Luckily, we found Glen Gibson right away and got right back on track.  Glen was the lead singer of the legendary Texas psychedelic pop group "Blackwell" from 1969-1970 Their records are still sought after today.  Glen's vocals added an interesting Texas rock-twang to our sound.  After Glen left, we found a guy named Mike Pinson who went by the stage name Dwayne Michaels.  
One day, our guitarist, Wayne got an offer he couldn't refuse, to play in a band on a cruise ship and he gave notice that he was leaving.  Who could blame him?  Twice the money we were making, bring the wife along, free food and drink and visiting a new port of call in the Bahamas every two days!  After Wayne left, much of our spirit was gone and we disbanded.   
I spent the entire fall of 1978 writing songs at home - LOTS of songs!  Most of the songs were not very good, but a few were.  I decided the only way I'd ever be a better songwriter was to get into the studio and start recording and producing my own material.  Six months later, I was in Amphion Studios in Bellaire, Texas (just outside of Houston) recording my own music for the first time!