Private Numbers -1984-1991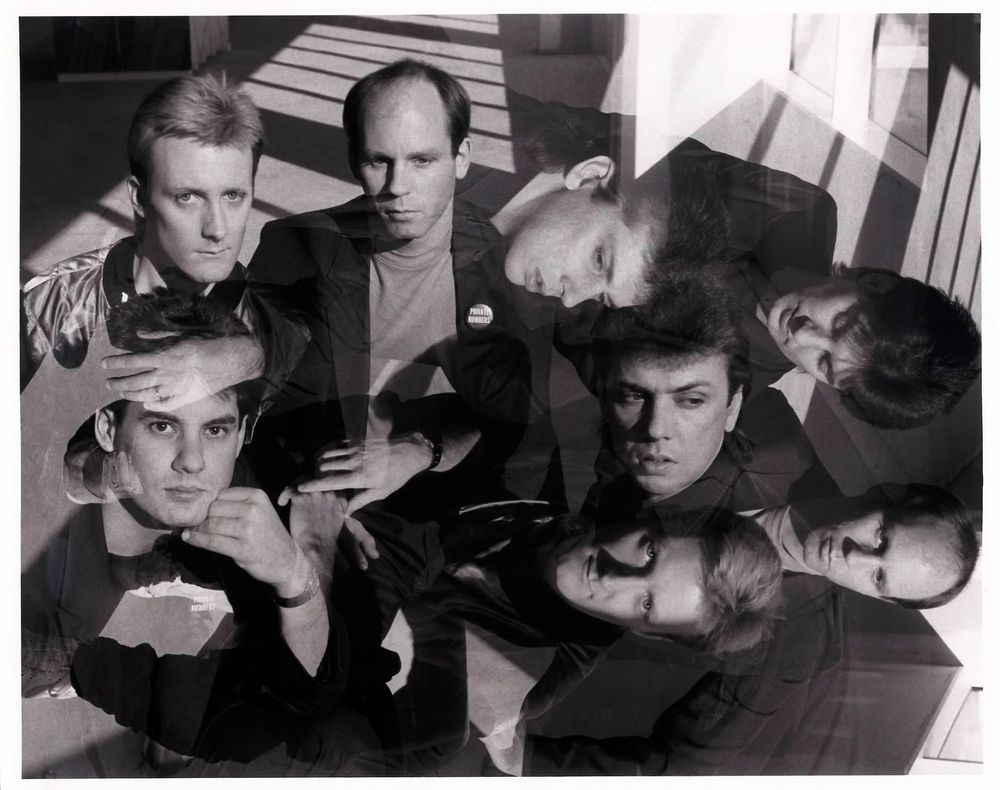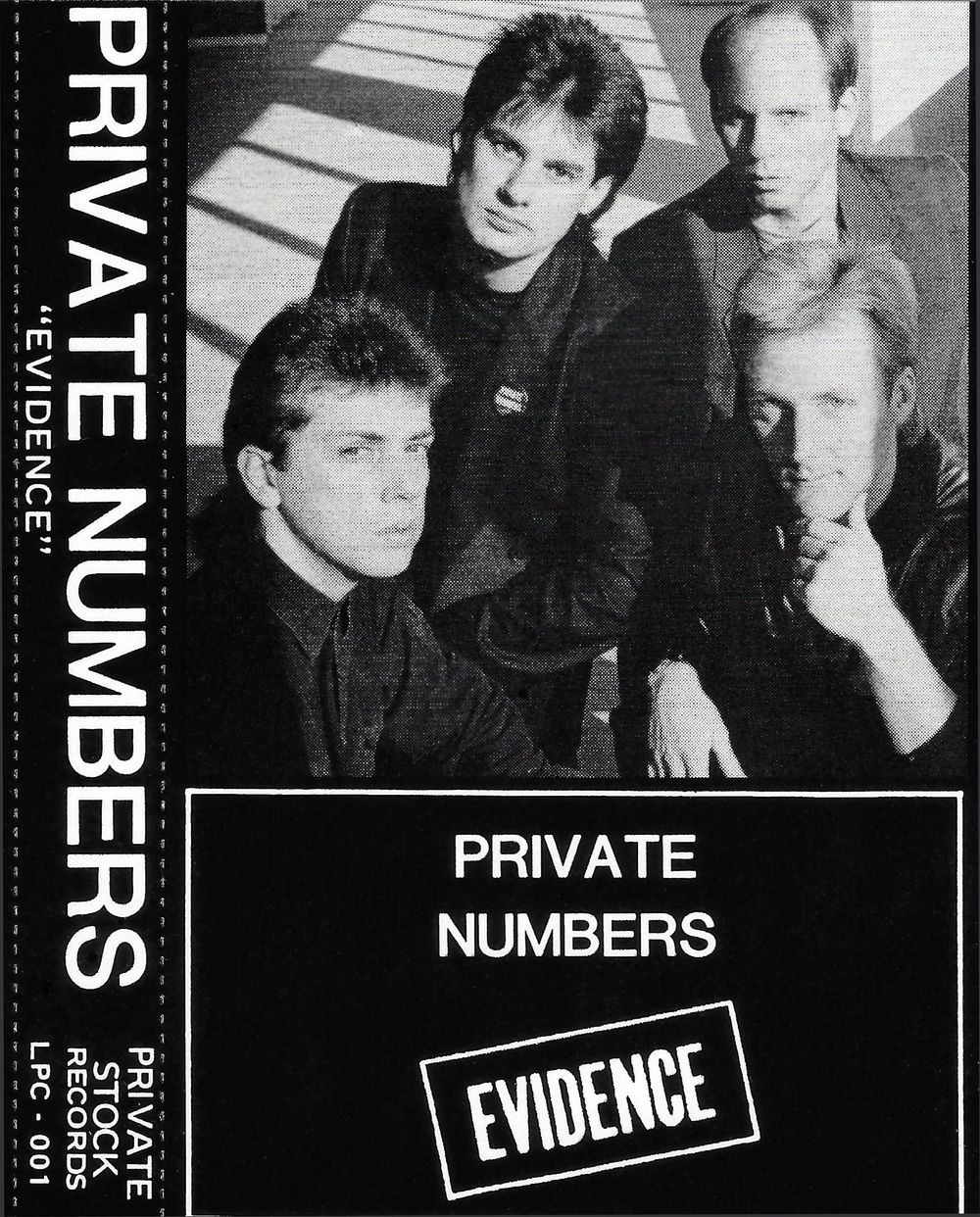 In July 1984, Danny Kristensen, Rick Richards, Doug Hines, and I began formulating ideas for our new band.  But the first order of business was to play out the last couple of Walkee Talkee gigs that were still booked.   
The first gig still on the calendar was a four-night stand at a rock club in Corpus Christi, Texas.  I knew about sixty percent of current Walkee Talkee cover songs but I needed to spend some time rehearsing them with the band and to learn the rest of the material before we trotted out onto a stage to perform them.  We had added a few original songs and those also needed a few finishing touches.   
The main idea was that this new band would slowly replace the Walkee Talkee cover songs with all of our own material.  At some point, we'd also introduce our new band name as well. Suddenly, the same musicians would have a new name and an all-original set list.  Like the perfect magic trick, the audience would never know what hit them!  
We booked our hotel rooms in Corpus Christi a day early so we could have time to rehearse all of this material and have it ready to perform on opening night.  This worked out fine, as the first two nights were on Wednesday and Thursday and it wasn't very hard pleasing the smaller crowds.  By the second night, the original material was sounding really good.  When we arrived to the club on Friday night, the place was packed and we had our work cut out for us.   
We started them off easy.  It's always easier to play a familiar Rolling Stones song to a club audience than an original song, due to their familiarity with the song.  Sometimes, an unknown song will illicit suspicious stares and an insecurity about committing oneself to the dance floor, just in case the band suddenly springs into a polka instead of a recognizable chorus line to sing along with.  But somehow, the audience began to trust us and really seemed to like our originals!   
The next weekend, still under the name Walkee Talkee, we were booked for a Friday and Saturday night gig at a Houston club called Lovejoy's.  We used to refer to clubs that favored more laid-back music selections as "Fern Bars".  The funny thing about Lovejoy's was they actually had potted fern plants all around the club!  In fact, the front of the stage was lined with them!   
Our first concern was that we were going to be too loud for their clientele and they might be resistant to our original songs.  We decided that maybe we should start with an acoustic set of familiar cover songs and get the audience with us like we'd done in Corpus Christi before we hit them with our originals.  This worked on opening night.  Plus, truth be known, playing I Can't Get No Satisfaction at a whisper volume just doesn't work.  But, just like in Corpus Christi, the audience liked our songs and they stuck around to dance and drink; the only criteria as to a band's worth as far as the club's management is concerned.   We even turned up the volume after our first set after warming up the audience.  Our plan was working!   You have to play the songs AND play the audience. 
With no more Walkee Talkee gigs on the books, we got into rehearsal mode and worked up three one-hour sets of original songs.  I'd been writing nonstop for the past two years so there was plenty of material.  We were also playing some of Danny's songs that we'd done in the first version of Walkee Talkee, so it seemed we were all set material-wise, as long as we could learn the tunes fast enough to book some gigs and start making some money again.  
During the summer of 1984, I got a call from our engineer friend Andy Bradley who had done such a great job on the Fear of Falling sessions.  Andy told me he had recently left ACA Studios and moved to Huey Meaux's Sugar Hill Studio. He asked me to come by to check things out.  Sugar Hill was a legendary place where many notable musicians had recorded hit songs over the years. The Big Bopper recorded Chantilly Lace there.  Freddy Fender recorded his hits, Wasted Days and Wasted Nights and Before the Next Teardrop Falls, and Archie Bell and the Drells recorded Tighten Up at Sugar Hill Studio. Janis Joplin, Johnny Winter, Edgar Winter, Willie Nelson, and so many more industry names also brought notoriety to Sugar Hill over the years.  
I stopped by Sugar Hill one afternoon and Andy showed me around.  Both studios A and B had an almost reverent feel to them that was palpable as I walked around imagining all the talent that had created magic there!  During our tour while Andy was showing me the very spot The Big Bopper stood to record Chantilly Lace, he casually mentioned to me that we should consider recording some of our songs there and let Huey pitch the band to some record labels.  Andy also said that he had a lot more input in the studio's day-to-day scheduling and decisions and that Huey wanted Andy to bring some local bands in to record – at no charge!  That offer was hard to refuse.  
Around this same time, the band had just chosen its new name; Private Numbers.  The name came about one day at rehearsal at Rick Richards' house.  Rick's young kids had those colorful magnetic letters that stick to metal and they were all over the family refrigerator.  During our breaks, one or two of us would go over to the fridge and try to come up with a band name.  One of the names that we liked was Numbers.  A few days of staring at that name inspired one of us to add the word Private in front of Numbers and that's how our new band name came about.  
A few weeks later, Andy booked us a session where we recorded Walking in Her Sleep, I'm Gonna Tell Her Tonight, and Be That Way. Over the next few months in between gigs, we ended up recording a lot more songs that would end up being our first album, Evidence.  Having an album to sell at our shows was a nice financial bonus.  It also gave us some credibility as a serious act and that helped us get some much-needed press starting out as a new band.  
As soon the Evidence album came out on April 5, 1985, I sent copies to the press in Houston, Dallas, and Austin to help with in-store sales. I sent a copy to Bob Claypool, the music critic at the Houston Chronicle. I called him first to tell him to expect a cassette from us.  In the past, Claypool had been supportive of new and emerging local talent.  After three or four weeks, there was nothing in the Chronicle about our new album. I finally got Claypool on the phone and asked him what it would take for him to review our album.  Being sort of flippant with him, I asked, "Do we need a band photo of us dressed in drag to get a good review in your newspaper?"  He laughed and said, "Sure!".  
Being the crazies that we were in those days, I talked to the other guys about it and before I knew it, we were donning feather boas, jewelry, and having a makeup artist make us look beautiful for a photo session. The photo was taken and I sent it along to Bob Claypool and a few other regional music papers, just to see if we could get any traction. Apparently, Claypool either hated the album or our photo.  Either way, the Chronicle never did review the album (although lots of others did) and now we were left with a sultry photograph of the four of us dressed in drag.  
About this time, we won a local Battle of the Bands contest where the prize was a produced music video.  I had been working on a song called She's a Liar and a Spy. The song was about a young woman who fancies herself as an investigator who likes to make mischief around bands.  The beginning of the video has her breaking into our office and stealing the photo of us dressed in drag.  She proceeds to go to one of our shows where she parades through the audience showing them our photo.  There's a fun chase scene during the lead where she jumps into a vintage red Ford Thunderbird convertible and we chase her in a classic 1950s Yellow Chevy Roadster.   
It's a very funny video and in the end, we catch her with the aid of a (real) motorcycle cop who handcuffs the nutty young woman and we get our photo back.  Or do we?  You'll have to watch the video for the surprise ending!  At least we made good use of the photo!  
One day, the former keyboard player for Walkee Talkee and now recording studio owner Keith Lancaster gave me the phone number of a friend of his named Lee Bentley had just gotten a new video camera and he was keen to produce a music video for us.  We picked Walking in Her Sleep as the song for the video.  I wrote the storyboard and sat down with Lee to discuss some of the scenes and shooting locations.  I really enjoyed the extra aspect of directing the band's videos. We were all such uninhibited individuals that it was easy to write fun and quirky scenes that would add extra humor and personality to the final video.  
Music videos were in their prime and Danny and I were invited to be guest VJ's on the MTV wannabe network, Hit Video USA. The live show was done in Houston from 6 pm to 8 pm. We were interviewed for the first hour and guest VJ'd for last hour of the show where we read the teleprompter to set up the newest music videos by Madonna, Cindy Lauper, and folks like that.  Then we premiered our new video to close out the show.   
The host wasn't very good on-camera or knowledgeable about our band and she completely lacked any TV personality.  As it turned out, all she was capable of doing was reading the teleprompter. Danny and I recognized this quickly and set about trying to bring some personality to the two-hour show in the form of levity.  The next day, looking at the video recording of the show, Danny and I had taken over the show! Some of our antics were pretty funny and we got some nice publicity with our video.  
What I also remember about doing this TV show was that we had to run out of there and drive an hour to Galveston to be on-stage by 9:00pm!  We left the downtown TV studio, drove through the McDonald's drive-through order lane and kept going.  We barely made it to the club on time.  I remember eating a cheeseburger placed in my harmonica holder around my neck during the first set!    
I knew Clint Black's bass player Jake Willemain and one day Jake called me to see if we would be interested in playing their off nights at a place called Sherlock's Pub.  Clint had just been signed to a major country label and they were tweaking their set before they hit the road to promote the first album.  So, Private Numbers started playing Wednesdays and Thursdays at Sherlock's Pub.  Malcolm, the club owner, was impressed with us and we soon started bringing in good crowds on those slower weekday nights.  
As the crowd built, so did the requests for classic hits like Born to Run and Magic Carpet Ride.  Pretty soon, Private Numbers fell back into the trap of playing cover songs mixed with our own songs.  This was fine at first but it caused us to stray from our mission.  That said, due to the crowds we were drawing, we were able to negotiate better pay from Malcolm, which was nice.  
After the Clint Black Band took off for the road, Malcolm asked us to start doing every other week, four nights a week at Sherlock's.  We threw out an outrageous figure for a four-night stand and he accepted!  As it turned out, we were able to bring our audience along with us by playing both covers and originals while making some good money and selling our album.  
As 1985 turned into 1986, we began to record a new batch of songs with Andy at Sugar Hill Studios.  Huey had been pitching our songs but now he wanted more material.  In between shows, we started planning out our next album. We were playing lots of gigs, recording at Sugar Hill, planning new video shoots and trying to find a manager who could also help pitch the group to a major record label in addition to Huey.  This proved to be very difficult.  Houston didn't seem to have anyone who fit this bill. The stress of all this was starting to build up.  
While trying to figure out what to do next, I found out about a three-day music industry event called "The New Music Seminar" that was due to take place in New York City in April.  I talked to Danny about the two of us attending and he thought it was a good idea. We needed some connections! 
In the early spring of 1986, Danny and I flew to New York for the three-day "New Music Seminar." We carried our business cards that had a little quote at the bottom that had "Echoes of the Invisible World" printed on them. This was the same quote that had appeared at the bottom of my manager Steve Ramey's business card back when he was managing my group Rockin' Jon in 1973 and 1974.  
The quote comes from a book by Jacomien Prins which offers an account of the transformation of the notion of the Pythagorean world harmony during the Renaissance and the role of the Italian philosophers Marsilio Ficino and Francesco Patrizi in redefining the relationship between cosmic order and music theory. Danny and I thought this simple, yet lofty quote would make us stand out to potential interested parties, even if no one knew what the hell it meant.  
It had been almost three years since I had been to New York City as a member of Joe King Carrasco & The Crowns, and this time the experience was very different. Instead of lodging at the Marriott Marquis in Midtown, Manhattan where MCA Records was picking up the tab, Danny and I were staying at The Milford Plaza a block off Broadway.  Our meals consisted of whatever the cheapest thing was on the menu at the Howard Johnson's on Broadway.  
Arriving at the orientation session on the first morning of "The New Music Seminar", Danny and I walked into a ballroom filled with about 2,000 of the freakiest people you've ever seen in your life; all supposedly looking for a record deal. Both Danny and I had the rock star hair of the day and we also seemed to dress and speak a little nicer than most of the crowd there.  
When the orientation part of the program started, out on the little stage, came a little guy wearing an exaggerated long-haired wig and a bashed up acoustic guitar around his neck held up by what looked like a piece rope. Some recording started as he strolled onto the stage.  I instantly recognized the song by 10 Years After as I'd Love to Change the World. This guy started lip-synching the song and "pretending" very badly to play the guitar. The whole room was silent. At the end, there was polite applause from the excited attendees. But Danny and I just looked at each other like, "WTF was that?"  Danny finally said, "That guy's making fun of us!".  The performance sort of pissed us both off a lot!  
Then there was a panel discussion of music business "experts", which included the same guy who had been up there lip-synching the 10 Years After song three minutes ago. The panel spent 20 minutes each talking about all of their grand achievements, titles, etc. to impress us. They talked to us like we were kindergartners. It went on a bit long to have any real value but, there we were. They made it clear that they were the gods in charge of the artists and we were not.  
We listened to some extremely inane questions from our fellow audience members when it was Q & A time, including a shirtless guy who walked up to the mic and asked "Isn't it true you guys are still pissed off that The Sex Pistols did as well as they did without your help?", then he took a sip of his can of Budweiser. Sheesh!  No wonder the panelists think we're all a bunch of idiots!  
At the first break, Danny and I hurried over to speak with a panelist named Joel Webber to see if we could give him one of our cassette tapes. Webber was an A&R guy (Artists and Repertoire) with Island Records.  He was also really tall so him looking down on us was something he came by honestly.  However, as I was about to find out, talking down to others was something he'd figured out for himself.  In a sort of challenging way, he said, "Well, if you're as good as you seem to think you are, perhaps you can come by this afternoon and drop off your demo tape!"  Why all the attitude, Joel?  
So, right after lunch, Danny and I caught a cab and headed towards Island's office in Greenwich Village.  When we arrived at the small hole-in-the-wall office, no one was at the reception desk and we thought we'd been fleeced.  As we were turning to leave, Joel Webber was coming through the door with his assistant.  "Hi Joel!", I said.  "It's us with a dandy little cassette chocked full of great songs."   That made him smile!  I gave him a tape with one of our packages with photos and a band bio.   
We had also met another record company person who suggested we meet for coffee at 6:00pm that evening at the The View Restaurant & Lounge which is a revolving rooftop restaurant and bar high atop of the Marriott Marquis hotel. Oh boy!  
My only guess as to why this person was paying any attention to us at all was because, unlike the rest of the attendees, we didn't look and act like we were crazy. We had on decent clothes and had some a command of the English language.  
Danny and I arrived punctually at 6 o'clock, found a small table, and spun around Manhattan a few times as we ordered a pot of coffee. The waiter came over with just the pot of coffee and no cups.  We asked for three cups.  He brought them.  No saucers, no spoons, no sugar, no cream, only, "That'll be $10". Danny said, "Do we not get saucers or spoons or sugar or cream?" The waiter looked back at him and again said slowly, "That'll be $10." So, I gave the guy a $10 bill and he looked at me like I had just given him a quarter and walked away. We never saw him again, much less any spoons, saucers, napkins, cream, or sugar.  Ah, New York's finest service!  
Our contact showed up 45 minutes late.  By that time, Danny and I had each had three cups of black coffee and we were getting ready to start on whiskey.  The guy sat down and said "So, do you have a cassette tape of some of your stuff with you?"  Danny and I each pulled out a cassette like gunslingers drawing on their opponents and handed them to him, as if we had just performed a well-rehearsed dance move.  The guy said, "Oh, I can't take that from you here. You'll have to bring it by the office tomorrow. And then he stood up and said he had to go. Danny and I looked at each other, again with that same WTF look, shook the guy's hand and I said we would drop some tapes by his office tomorrow at the lunch break.  I don't even remember that asshole's name.  
After that first painful orientation session, we met a woman who worked in the A&R office at CBS records who turned out to be an assistant to their in-house producer and head of A&R, Rick Chertoff. Chertoff had been the producer for The Outfield's first album.  The group was just getting ready to release their second album with Chertoff producing. I asked the woman if I could give her a tape of our material and she said, "Sure but I can't give this directly to Rick. You have to make your own inroads with an attorney to do that". In those days, record companies did not like to take what was considered "unsolicited material", due to the potential for lawsuits related to copyright infringement if someone felt their song had been stolen. That made sense and we made a mental note to get ourselves a good music attorney when we get back to Houston.  
The second day of the "New Music Seminar" seemed basically to be a repeat of the first day's nonsense; breakout sessions on how to write a good song, how to find a good manager, rules to follow for rehearsals, etc. Danny and I felt like graduate students in the first grade.  
Just before the lunch break, we went to Howard Johnsons, had yet another grilled cheese sandwich and talked about things, in particular, how we felt about the status of Private Numbers and where we were in the grand scheme of things.  
We were getting ready to release our second self-produced album of 14 songs and there was at least another album's worth of material sitting on my four-track tape recorder back at my home studio in Houston. The realization that we needed these crazy insulated people to advance our careers any further didn't sit well with us. We couldn't get the thought out of our minds that these people made fun of us, talked down to us, wasted our time, and tried to give us pointers on things that Danny, Rick, and I had learned to practice more than15 years ago.  
After that depressing lunch, we decided to do some sightseeing. We went up to the top of the Empire State Building, then we headed over to the Dakota to see where John Lennon lived, and then across the street to Strawberry Fields to pay our respects at the Imagine Circle there.  
Taking the cab back to our hotel, we decided to attend only the morning session of the seminar and then see if we could get our flight back to Houston moved up to mid- afternoon instead of early evening.  
When we woke up the next morning, we walked once more to the Howard Johnsons for breakfast.  We both had an overwhelming feeling that the "jig was up" somehow, as if Private Numbers had collectively and individually reached the end of the game somehow.  
The "New Music Seminar" had confirmed much of what we felt we'd known for many years and had now seen with our own eyes and heard with our own ears.  We had pulled back the final curtain hiding the Wizard of Oz to reveal that the emperors in the music business had no clothes, but yet had all the control and money.  Could our still vehicle work?  
On the flight home, we decided to try one more angle before turning in our rock n' roll membership cards.  We'd find a good music attorney and have them pitch our band to some of the contacts we had made in New York that weekend.  
After we got home, I did some research on music lawyers and found a guy named Al Staehely.  Al had been the bass player for the group Spirit from 1971-1973. The group had a couple of moderate hits and then the band broke up.  Al went back to law school and got his degree. Now, he was representing musicians to record companies, publishers, and managers. He seemed like our guy!  
I arranged a meeting with Staehely and I was impressed with the person and his knowledge and we decided to hire him. I also brought along a couple of Spirit albums, which he gladly autographed for me!  
In the next few weeks, Al made some headway with Rick Chertoff who invited him to send our demo tape and other information about the group. This was promising! Private Numbers were still booked very heavily so we decided to keep our heads down, keep gigging and wait for the phone to ring from Al.  
Al got back to me and said that Chertoff really liked the tape and wanted a few more songs, which we were only too happy to provide. I dropped a new tape off to Al and he had his secretary forward the songs to Chertoff.  
We didn't hear anything for three or four more weeks but we still felt optimistic about our chances, especially since people like to compare us to The Outfield all the time and part of our sound would at least be familiar to Chertoff's ears.  
Late one Friday as I was getting ready to head out to a club gig we had in Houston, I noticed I had a message on my phone machine. When I played the message, I heard Rick Chertoff saying, in a very excited voice, that he really needed to get in touch with me as soon as possible and to please call him first thing Monday morning. My hopeful mind interpreted that as a good sign! I told the guys in the band when I showed up at the gig on Friday night and that extra little boost from the band that night was noticeable in our show. Even though we were running high on adrenaline and optimism, we somehow got through that weekend!  
On Monday morning, I called Rick Chertoff's office and his assistant answered the phone.  She told me that she remembered meeting me at the "New Music Seminar" a few months earlier.  We chatted for a while and then she connected me to Chertoff's phone.  Within seconds, Chertoff picked up the phone and said "Hey man, thanks for calling me back! I got your second tape. All your stuff sounds really, really good! But we're not signing any new bands right now. I was just calling you to find out where you wanted me to send your package back."  To say I was a little devastated is an understatement. I gave him my address and that I would be looking for the package and thanked him for his time. He said to "stay in touch!", which sounded sincere, I suppose, but it felt a little like the old Hollywood saying "let's have lunch" to me.  
I called all the guys and told them what was going on. The disappointment was palpable, even over the phone lines. Doug Hines left the band shortly after this. After our experiences in New York and now this gut punch from CBS Records, it felt like it was going to be nearly impossible to get our chance to enter the Emerald City.  
Later that day, I called Danny back and I asked him what he wanted to do. We talked for a long time and we decided to go ahead and put out our second album, even without a full-time keyboard player or a major label.  We decided to call the new album Echoes of the Invisible World. Surprised?  The album was released on May 7, 1987.  
Since we now had an inside reach into a couple of video shows on television in Houston and Dallas, we started getting all of our videos aired. In fact, we soon had our own music video show called Private Numbers Video Showcase that featured band interviews, our music video set-ups and, of course, our videos!  At one point, we had a dozen music videos broadcasting on a regular basis.  Did that encourage Bob Claypool at the Houston Chronicle to review our second album?  Nope.  
Throughout 1987, as we were still gigging our butts off, making great money and recording songs for what would be our third album, I started thinking that maybe we should just have fun and not worry about trying to grab any more brass or gold rings from the merry-go-round we'd been on for the past five years together.  By now, Private Numbers was a very good band that made it "really medium!" in the music business by calling our own shots.  But we were tired of the game.  By 1987, we'd kinda had enough.   
In the meantime, Chas Jetty had left another promising local group known as The Voices and their future was in doubt so, we talked to their keyboard player Ric Plunk about coming into Private Numbers.  We were all very familiar with Ric's musicianship from his time in The Voices.  The Voices were a wonderfully interesting quirky band that played incredibly good original music.  Their bass player and songwriter Jon Stone and I had been good friends for years. Why The Voices, Ric Tangle & The Squares, The Haskell's, Zen Archer, Z-Rocks and at least a half dozen other Houston bands hadn't been signed by a major record label by now was beyond me.  Houston had an amazing music scene.  But apparently there was no Brian Epstein to be found anywhere.  By 1987, those bands and all that talent started disintegrating.  It was a very sad time for the entire Houston music community.  
Private Numbers kept gigging, now with Ric Plunk on keyboards.  We had a nice supportive fan base and it was great not to have to travel so much anymore.  By now, we were all creeping into our early 30's.  I think 30 is one of those ages that forces you to reevaluate your life and your future goals.  
At a Houston gig one night, I met a guy named Bill Todd who really liked our band and our songs.  Bill told me he was a flight trainer at Johnson Space Center in Houston.  He asked me if I wanted to come down to the space center some time and "fly" in the Space Shuttle simulator like the astronauts do that he trains.  "Are you kidding me?!"  At our next gig, Bill gave me a couple of orange covered Space Shuttle procedure manuals to study and then he scheduled a time for me to meet him at Johnson Space Center.     
Arriving around 6pm on a Wednesday evening, Bill met me in the lobby of the flight training building.  I got my clearance pass and we took the elevator to the flight training floor where the simulators were.  We passed lots of very serious looking Shuttle astronauts in the hallways as we made our way to the simulator area.  
Bill took me into this little hallway where we turned a corner and suddenly, we were in the cockpit of a Space Shuttle!  I looked around at the rows and rows and rows of switches and computer displays. Bill told me to sit in the pilot's (right-hand) seat.  He took the commander's (left-hand) seat.  He then set the simulator for lift-off.  He gave me a couple of procedure cue cards with little pieces of blue Velcro stuck onto the corners of the cards.  There were also small pieces of Velcro stuck to various spots on the flight instrument panels to attach the cue cards to for each phase of the flight.  
I had already reviewed the checklists in the manual Bill had given me for things the pilot was responsible for monitoring during the lift-off phase of the flight until the Shuttle reached orbit.  Although this phase only took 8 ½ minutes from lift-off to orbit, there were thousands of things that had to go exactly right in order for everything to work out.  
During our ascent simulation, I got to figure out how to shut down the power to an engine that had gone out during ascent and buss tie the other two together so we could reach orbit, all while the very loud Caution and Warning alarm was ringing in my ears! During that entire evening, there was a gleeful 10-year-old boy jumping up and down inside of me!  
I learned that Bill's dad had grown up in Boulder, Colorado and his dad's best friend was Original Mercury astronaut Scott Carpenter. The Mercury Astronauts were boyhood heroes of mine.  One evening when I was again scheduled to meet Bill for another Shuttle simulator experience, he asked me to come by his house first instead of meeting at the Space Center.  Bill lived in Seabrook right across from Johnson Space Center.  I knocked on the door and Bill greeted me.  He said there was someone in his living room he wanted me to meet.  I walked into Bill's living room and saw this little old man sitting on the sofa.  I took a good look at the man and then blurted out, "Hey, you're Scott Carpenter!  I've been wanting to meet you since I was eight years old!"  Scott said, "Thanks, you really know how to hurt a guy!" and we all laughed.  Of all the famous people I've met in my life, I totally geeked out meeting Carpenter!  Scott and I maintained our friendship for the next 20+ years.  We even took a weekend trip together to visit a mutual friend.     
Bill called me one day out of the blue and asked me if Private Numbers would like to perform a wakeup song for the STS-31 Shuttle Crew that was going to deploy the Hubble Space Telescope.  I don't think I even let him finish his question before I said, "Yes!"  We set to work adapting, Is This My World? from our Echoes of the Invisible World album to become Space Is Our World for the wakeup song!  
As the Shuttle launch got closer, Bill invited me down to the Space Center to meet the crew of STS-31. I brought along my four-year-old daughter, who asked astronaut Kathy Sullivan if she could come along on their mission.  Very politely, Kathy said, "Probably not on this mission. But you might be able to go into space someday if you work really hard in school."   
On April 25,1990, the day the Hubble Space Telescope was deployed, Private Numbers performed Space Is Our World which was uplinked to the crew as their wakeup song.  We spent most of that day enjoying some nice national publicity, appearing on about eight different television shows. What an honor it was to be able to do that for this historic mission.  My biggest co-interests, music and space, had now completely converged. Once again, showing up had paid off!  
The president of Spindletop Records, who happened to be named Brian Wilson (no relation to Beachboy Brian Wilson) was sitting in LAX airport the morning watching NBC's The Today Show as they reported on the mission and played our wakeup song.   This got Wilson's attention and when he got back from his business trip, he somehow got my name and number and gave me a call. He said he might be interested in signing us!  Maybe we did have one more chance to visit the Emerald City!  
I sent Wilson our standard press kit with an audio cassette with four of our best originals, along with photos and our bio.  He called back to say he really liked the music and that he wanted to come to Houston to discuss potential terms.  Not having a manager yet that we trusted (we'd had a few dealings with folks who ended up being too crazy, even for our taste!), I asked a friend and very successful business guy to attend the meeting with me and make notes to discuss later.  
My friend and I arrived at the chosen Mexican restaurant in his red Mercedes convertible and we went in and met with Brian Wilson of Spindletop Records.  Brian spoke to me but my businessman friend tried to field all the questions.  I could sense that Brian was a bit uncomfortable with my friend's high-pressure negotiation tactics so early in our discussions.  I was starting to get worried.  We munched on our chips and salsa and I tried to intervene every so often with a, "You and I can talk about that over the phone next week."  
After dinner, Brian excused himself saying he had to get back to LA and that "we'd talk in a few days".  My friend seemed to think he'd done a good job handling the record company guy, but my instincts said otherwise.  
A few days later, Brian called me asking, "Who the hell was that guy?  I don't think we can work together."  No matter how I tried to assure him he was just a friend and not a manager with any say-so, he still sounded turned off by the whole thing and felt like he'd wasted his time.  Any potential deal was off.  
Private Numbers released our third and last album Surface Noise in mid-1989.  I sent Brian Wilson a copy of the album but I never heard back from him.  The band continued playing lots of gigs, mostly around Houston.  But it was clear we were almost out of gas.    
In January 1991, my second daughter was born!  I was now 36-years-old and having major stirrings about getting out of this crazy business.  
In February 1991, after one of my regular racquetball games with Danny, I told him I was leaving the band and that Patti and I would be moving back to Charlotte, NC with our two daughters. It was a very sad conversation but Danny completely understood.  We still had gigs on the books until early June so we all had about four months to prepare for our next life chapters.  
One afternoon, I received a call from a booking agent wanting to know if we wanted to be Herman's Hermits for singer Peter Noone.  We jumped at this fun chance to play with Peter and perform all those songs that we grew up listening to!  Playing with Peter Noone was another one of those "pinch me" moments that could have only come about as long I was still plugging along in the music business and showing up every day, even if it was only going to be for the next few months.   
On June 2, 1991, I played my last gig as a professional musician.  Just like that, after 23 years, I officially retired from the music business at the ripe old age of 36.  Our last show was an unceremonious Sunday afternoon club gig at a place called Banana Bay in Lake Conroe, Texas.  What a long and strange trip it had all been.  
As the last notes of In My Life, our final song, faded out, we got a standing ovation from the late-afternoon drinkers and a cross-section of our most devoted fans who'd come out to witness "The End".  
I put my bass down and the band members gathered in the middle of the stage, took our last bow and hugged on another.  As soon as I saw Patti coming up towards the stage, I knew I had to get out of there.  I didn't want to chat with our fans and I didn't want to listen to drunk people requesting that we go back on and play Free Bird.  
I headed towards the parking lot and to our equipment van.  The other band members came outside shortly and we all gathered around and just looked at each other in silence for a few minutes.  It was a very strange sensation trying to accept that it was all over.  
I gave Danny the keys to the equipment van and we all hugged again.  We loaded my equipment into my car and then Patti and I headed back to Houston to start loading our one-way rental truck.  The next morning, the Moody's left Houston for Charlotte to start a new life.  
Little did I know at the time that I would be participating in an unplanned afterlife in nineteen-years-time!